Harold Matthews Cup
Click here to view Harold Matthews Cup 2016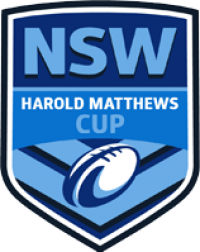 The NSWRL Harold Matthews Cup is a junior rugby league competition played in New South Wales between teams made up of players aged under 16. The competition is administered by the New South Wales Rugby League (NSWRL). The competition is made up of NSW-based clubs and includes both junior representative teams of the elite National Rugby League (NRL) and clubs and academies that do not field teams in the NRL competition.
The competition is named after Harold Matthews, a Balmain Tigers secretary who later was appointed as manager of the Australian Test squad and later went on to become secretary of the NSWRL and ARL.
Contents
1

The clubs

2

Harold Matthews Cup Premiers

3

See also

4

References

5

External links
The clubs
In 2011, seventeen clubs fielded teams in the NSWRL Harold Matthews Cup.
Balmain Tigers
Canberra Raiders
Canterbury Bulldogs
Central Coast Centurions
Cronulla Sharks
Illawarra Steelers
Manly-Warringah Sea Eagles
Newcastle Knights
North Sydney Bears
Parramatta Eels
Penrith Panthers
St George Dragons
South Sydney Rabbitohs
South West Sydney Academy
Sydney Roosters
Western Suburbs Magpies
Western Sydney Academy
As of 2013, Melbourne Storm has joined in the competition.
Harold Matthews Cup Premiers
Year
Age
Premiers
Runners Up
1970
Parramatta
1971
Parramatta
1972
Parramatta
1973
Cronulla-Sutherland
1974
South Sydney
1975
Parramatta
1976
Parramatta
1977
Cronulla-Sutherland
1978
Canberra (CRL)
1979
Penrith
1980
Group 12 (CRL)
1981
Parramatta
1982
Parramatta
1983
Group 6 (CRL)
1984
Canberra
1985
Penrith
1986
Parramatta
1987
U/15s
Illawarra
1988
U/15s
Parramatta
1989
U/15s
Penrith
1990
U/15s
Parramatta
Gold Coast Seagulls
1991
U/15s
Gold Coast Seagulls
Cronulla-Sutherland
1992
U/15s
Newcastle
South Sydney
1993
U/15s
Canberra
Parramatta
1994
U/15s
Parramatta
Penrith
1995
U/15s
Canberra
Parramatta
1996
U/15s
Illawarra
Newcastle
1997
U/16s
Parramatta
North Sydney
1998
U/16s
Parramatta
1999
U/16s
Parramatta
South Sydney
2000
U/16s
Newcastle
Penrith
2001
U/16s
Sharks
Penrith
2002
U/16s
Penrith
2003
U/15s
Parramatta
St. George
2004
U/16s
Parramatta
Penrith
2005
U/16s
Penrith
Canterbury
2006
U/16s
Penrith
Canterbury
2007
U/16s
Canterbury
Penrith
2008
U/16s
Parramatta
Penrith
2009
U/16s
Canterbury
Parramatta
2010
U/16s
Penrith
Parramatta
2011
U/16s
Canterbury
Illawarra
2012
U/16s
Parramatta
Newcastle
2013
U/16s
Parramatta
South Sydney
2014
U/16s
Newcastle
Penrith
2015
U/16s
Cronulla-Sutherland
See also
References
External links
Rugby league in New South Wales

Representative competition

City vs Country Origin
Women's City vs Country Origin

NSWRL

Representative teams

New South Wales Blues
City Origin Team

Other competitions

New South Wales Cup
Ron Massey Cup
Sydney Shield
SG Ball
Harold Matthews Cup

Discontinued competitions

Jersey Flegg Cup
NSWRL premiership
Amco Cup

CRL

Representative team

CRL

divisions

Canberra
Central Coast
Illawarra
Newcastle
Northern Rivers
Sunraysia-Riverlands

CRL

groups

Region 1:
Region 2:
Region 3:
Region 4:
Region 5:

Illawarra

teams

Berkeley Eagles
Collegians
Corrimal Cougars
Dapto Canaries
Helensburgh Tigers
Shellharbour Workers
Thirroul Butchers
UOW Titans
Wests Red Devils

Newcastle

teams

Central Charlestown Butcher Boys
Cessnock Goannas
Kurri Kurri Bulldogs
Lakes United Seagulls
Macquarie Scorpions
Maitland Pickers
Northern Blues
South Newcastle Lions
Western Suburbs Rosellas
Wyong Roos

Group 7

teams

Albion Park-Oak Flats Eagles
Batemans Bay Tigers
Berry-Shoalhaven Heads Magpies
Gerringong Lions
Jamberoo Superoos
Kiama Knights
Milton-Ulladulla Bulldogs
Warilla-Lake South Gorillas

Other cups

Castlereagh Cup
Woodbridge Cup
Clayton Cup
Outback RL
Mid-West Cup

New South Wales
Women's Rugby League

Representative team

New South Wales Women's rugby league team

Sydney Metropolitan Women's Rugby League

teams

Auburn Warriors
Canley Heights Dragons
Forestville Ferrets
Maitland Pickers
Penrith Waratahs
Redfern All Blacks

Other competitions

Country Rugby League Women's RL competitions

New South Wales
Tertiary Student
Rugby League

Clubs

CSU Bathurst Mungoes
Cumberland Beavers
Lewisham Old Boys
Macarthur Magpies
Newcastle Seahorses
Norwest Polecats
RailCorp Apprentices
Royal Australian Navy Tridents
Sydney University
University of Canberra Cows
UTS Tigers
West Sydney Blues

Previous clubs

Alexander Mackie College
Hornsby TAFE
Macquarie University
Mount Saint Mary College
North Sydney TAFE
NSW Institute of Technology
Sydney University Vet Science
Teachers Club
University of New South Wales
University of Technology, Kuring-gai
University of Western Sydney, Nepean
Wollongong University
Rugby league in Australia

National Federation

Australian Rugby League Commission

National teams

Kangaroos
Jillaroos
Prime Minister's XIII
Aboriginal
Junior Kangaroos
Schoolboys

State Federations

New South Wales
NSW Country
Northern Territory
Queensland
South Australia
Tasmania
Victoria
Western Australia

Other Federations

University
Masters
Police
Women

Events

All Stars
Auckland Nines
City vs Country
State of Origin
World Club Challenge

Competitions

National Rugby League
National Youth Competition
State Championship
Affiliated States Championship
Schoolboy Cup

Honours

Clive Churchill Medal
Dally M Medal
Hall of Fame
The Immortals

Media

Big League
Rugby League Week
The Footy Show
Friday Night Football
NRL video games

Lists

Clubs
Venues (stadiums by capacity)
Premiers
Wooden spooners

Rugby league in

Australian Capital Territory
New South Wales
Northern Territory
Queensland
South Australia
Tasmania
Victoria
Western Australia
Competition Teams
Latest Competition News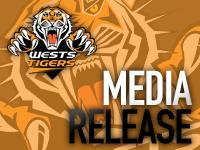 WESTS Tigers have been granted permission from the NRL for exciting youngsters Luke Brooks and Nathan Brown to possibly make their first grade debuts this weekend.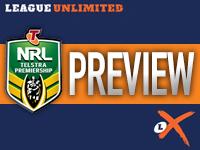 PAUL Mitry is here with his weekly previews for round 23 of the NRL season.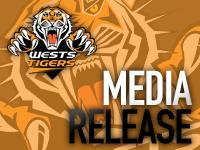 WESTS Tigers have today signed two players to strengthen its roster for 2014.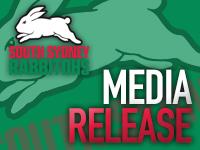 THE South Sydney Rabbitohs are excited to announce the re-signing of young front row forwards George Burgess and Thomas Burges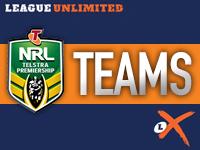 WE'VE arrived at crunch time - it's Round 12 of the NRL this week, AND State of Origin I - Teamlist Tuesday is here! Get the teams as they're announced right here all afternoon for the first shortened round of the season.