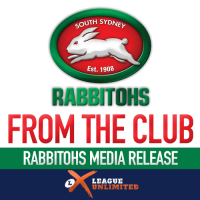 ​THE South Sydney Rabbitohs and hooker Issac Luke will defend a grade one dangerous throw charge
September 28th 2014 01:00pm

​THE NRL is heading towards one of its biggest Grand Finals ever after about four million people watched the two qualifying semi finals over the weekend.
September 28th 2014 02:00pm

CHIEF Executive Raelene Castle has announced that the Club will host an official NRL game at Belmore Sportsground in 2015
September 28th 2014 03:30pm

WELL this is it, we're down to the big dance - next week is the 2014 National Rugby League Telstra Premiership Grand Final! Here you can check out all the Preliminary Final results, reports and player of the year points right here.
September 28th 2014 12:36pm
Latest News
Latest Tweets