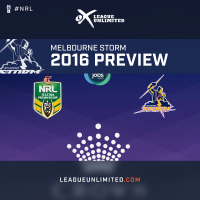 THE 'big three' aren't getting any younger but that hasn't stopped them pushing the Storm to glory, writes Jeff Dickinson-Fox. Check out Jeff's analysis of their 2016 chances.
February 11th 2016 08:38pm

TEAMLIST Tuesday (and a bit) is back! Get lineups here as they're announced for all this weekend's trial footy action!
February 9th 2016 03:28pm

AS each squad across the weekend for the next round of Super League fixtures are announced, you'll catch them right here! Get set for Round 2 of the First Utility Super League with full squads and officials.
February 11th 2016 08:21pm

​PENRITH Panthers are delighted to announce utility Isaah Yeo has signed a three-year contract extension with the club.
February 11th 2016 01:57pm
Latest News
Latest Tweets