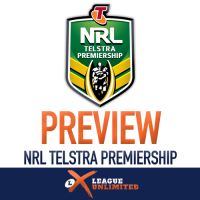 ​PAUL is back for another look at the weekend ahead. Check out his tips and see if yours will match up...
August 28th 2014 10:30am

​RECENTLY, Manly coach Geoff Toovey commented that the Minor Premiership is undervalued, especially given the length and toughness of the modern competition. And he is absolutely right.
August 27th 2014 09:00pm

​IN this weekly feature for LeagueUnlimited, our Armchair Expert runs his lazy eye over the weekend that was. Each round he'll look at the happenings of the previous weekend, and keep you up to date with the big issues like refereeing, social media and the current controversies.
August 27th 2014 09:00am

MANLY Warringah Sea Eagles life member Jason King has today announced he will retire at the end of the 2014 National Rugby League Season.
August 27th 2014 10:15am
Latest News
Latest Tweets