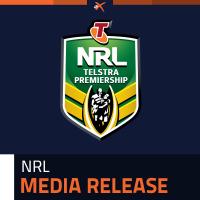 ​RUGBY League will reach more fans than ever before - both in Australia and globally - under a massive new NRL broadcast deal unveiled today.
November 27th 2015 01:11pm

WE'RE now just days, possibly hours from the NRL releasing the full 2016 Telstra Premiership Draw. Check in with all the latest right here!
November 23rd 2015 06:45pm

THE LeagueUnlimited.com team will keep across as many 2016 NRL Club Membership tallies as we can throughout summer to see how your club is doing!
November 2nd 2015 03:37pm

ANNIVERSARY seasons, new designs, a bit of the same - we'll cover the release of each club's new 2016 kits right here!
November 2nd 2015 04:26pm
Latest News
Latest Tweets