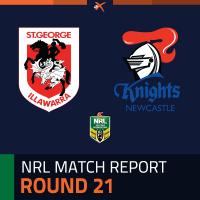 THE Dragons bounced back into the top eight today at sunny Kogarah with a huge 46-24 win over the Newcastle Knights in front of 10,000 fans.
August 2nd 2015 04:18pm

ROBERT Crosby looks at this weekend's clash between the Gold Coast Titans and the Parramatta Eels.
July 31st 2015 11:03pm

​SKIPPER Jamie Lyon has turned in a vintage performance to pilot his team to a 44-14 win in front of 16280 fans at Gosford's Central Coast Stadium tonight.
August 1st 2015 10:18pm

THE Canterbury-Bankstown Bulldogs have tonight celebrated their 80th Anniversary at a Gala Dinner held at Le Montage, Lilyfield.
August 1st 2015 08:30pm
Latest News
Latest Tweets