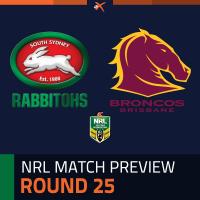 ROB Crosby looks at Thursday night's clash between the South Sydney Rabbitohs and the Brisbane Broncos.
August 26th 2015 10:52am

​SCENES of celebration and pure grand final exhilaration will grip Suncorp Stadium when the home of rugby league in Queensland hosts the Cup's 20th premiership decider on September 27.
August 27th 2015 05:40pm

JACK Clifton gives his thoughts on this weekend's battle between the Manly-Warringah Sea Eagles and the Sydney Roosters.
August 27th 2015 12:03pm

​BILLY Slater is set to finish his illustrious NRL career in a purple jersey after re-signing with Melbourne Storm for two years.
August 27th 2015 10:00am
Latest News
Latest Tweets