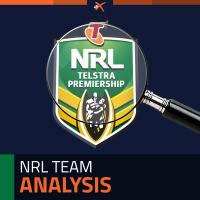 SAM Bourke is back to bring you all the ins and outs, and Supercoach studs and duds ahead of round 17.
July 1st 2015 10:22am

VOX Populi looks at the sheer volume of winning and losing streaks in the 2015 season, and brings us another composite team and a flash back to '80s back rower Hugh McGahan.
July 1st 2015 10:11am

​THE St George Illawarra Dragons on Wednesday announced that forwards Mark Ioane and Luke Page have both agreed to terms on respective contracts for the balance of the 2015 season and will join the Club immediately.
July 1st 2015 11:13am

WELCOME to Memorable Debuts, a feature of LeagueUnlimited.com where we take a look at the upcoming matches of the round and see which players debuted in the same game all those years ago.
July 1st 2015 10:23am
Latest News
Latest Tweets