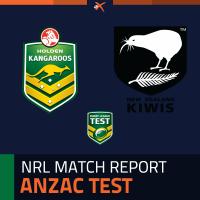 ​IN front of 32,681 fans, New Zealand have recorded a dominant 26-12 win over Australia at Suncorp Stadium, to record their first mid-season win in 17 years.
May 3rd 2015 06:48pm

TWO rival pacific nations looking to make a statement to the rugby league world ended with Samoa producing a frantic 18-16 win in front of 12 336 at Cbus Super Stadium on the Gold Coast.
May 2nd 2015 10:45pm

​HE'D overcome everything life had thrown at him. In fact he was used to it by now; but it never weakened his resolve or passion for his country. Nor did it dampen his desire to be the best.
May 1st 2015 07:30am

BIG news from Suncorp Stadium tonight as the weather system in South East Queensland takes hold...
May 1st 2015 06:30pm
Latest News
Latest Tweets