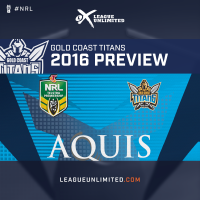 A tumultuous 2015 gave way to another bumpy off-season for the Titans - can they turn it around in their tenth NRL season and push back up the ladder in 2016? Jeff Dickinson-Fox writes.
February 8th 2016 10:13pm

ROUND 1 of the Super League competition is complete in the UK - read on for the full results list!
February 8th 2016 08:38am

A look over all the key results from the weekend's NRL Auckland Nines tournament as the 2016 edition unfolds.
February 7th 2016 02:00pm

A quick look back at results from the three trial matches played this weekend.
February 7th 2016 08:13am
Latest News
Latest Tweets