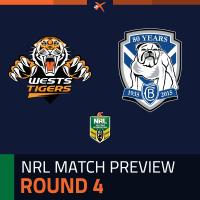 ROBERT Crosby previews Friday night's meeting between the Wests Tigers and the Canterbury-Bankstown Bulldogs.
March 25th 2015 02:14pm

CHECK out our thoughts ahead of Friday night's game between the Parramatta Eels and the South Sydney Rabbitohs at Pirtek Stadium.
March 25th 2015 01:44pm

SAM Flanagan has prepared a gaze into the immediate future - have a look at what he's predicting across the third round of the NRL.
March 27th 2015 03:02pm

WELL, last season we established one of two things. Either A) none of us are particularly good tipsters, or B) that the competition is unpredictable. We choose option B. It's less embarrassing. Check out who not to tip this week...
March 27th 2015 11:56am
Latest News
Latest Tweets