Bears lose narrowly to the
Bulldogs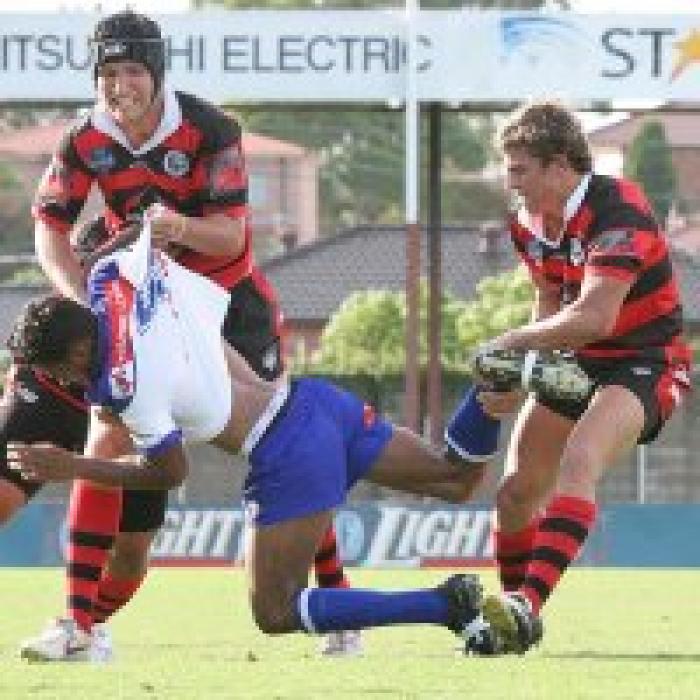 The North Sydney Bears S. G. Ball team have produced an enthusiastic and gallant display in a narrow loss to an in form Bulldogs outfit.

In a big improvement from their last hit out, the Bears faced the Dogs toe to toe, matching their opponents in the first half to finish 16 all. A strong running Nathan Searle scored the first of three tries for the bears in the first half. The next try was a sensational effort, with Liam Foran kicking on the first tackle and centre Ryan Oldfield out sprinting his Bulldogs? opponents to claim a try. The third try was a ?captains special?, Liam Foran breaking through the line off a dummy pass to score and convert.

In the first 15 min of the second half the Bears dominated the Dogs scoring two further tries, a strong run from Samuel Talanoa to score and again from the scrum Judah Wikeepa scored out wide.

However the Bulldogs finished the stronger, running in three more tries to take the win 34 to 24.

The coaching staff were unanimous in their praise for back Kimon Tellidis, while Mitch Williams put in a good, strong, solid display. While disappointed with the last quarter Coach Michael Pobjie claimed ?the talk was enthusiastic out there and it was a fantastic effort for the most part?.

In the other match played at Belmore the Bears Harold Matthews suffered a loss to the Bulldogs 44-0.

PHOTO: Jake Foster and Kimon Tellidis take on a Bulldogs attacker. Kimon was the stand out performer on Saturday. Photo: Steve Little

Next weekend the Bears will play three grades against the Central Coast at Norths second home ground, T G Milner Field in Eastwood on Sunday 12th March. The day begins at 12:00pm with the Harold Matthews followed by the S G Ball at 1:30pm. The final match will be the Jersey Flegg?s first competition match of the season at 3pm. The Premier League will play their round one match against the Sharks on Saturday 11th March at Toyota Park from 3:30.