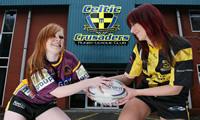 The date and time of Celtic Crusaders' Carnegie Challenge Cup Third Round match has been set. The tie against Hull Dockers or Eastmoor Dragons will take place at the Brewery Field on Saturday 10th March with a 6pm kick-off
The Hull Dockers v Eastmoor Dragons second round match was postponed due to a waterlogged pitch and will be replayed on Saturday 3rd March. Both sides play their rugby in the National Conference Premier which is the division below the Crusaders, and both are in contention of winning this year's Conference championship so are certain to provide stern opposition for the Welsh club.
This year's Carnegie Challenge Cup Final will be the first to be played at the new Wembley Stadium.
---