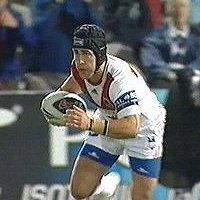 The St George Illawarra Dragons have all-but guaranteed themselves the minor premiership after a 25 to 6 victory over the Penrith Panthers in front of 19,987 tonight at CUA Stadium.
The Saints ran in four tries to one in a clinical and conservative display - not their most impressive win, but an important one at this time of the year.
The game was there for the taking at half time, and Penrith looked like they might be the team to do just that as Luke Lewis scored soon after the break. Lewis was unlucky to be denied a second try by the video ref, but Saints took advantage and they took control of the match and from that point the result was never in doubt.
Saints played a very solid game - mostly straight up the middle, backed up by clever kicking. Penrith's defence was up to the challenge, but they played without direction and the hard work of the forwards was diluted with directionless kicking and very poor sixth tackle options. This was the difference in the two sides in a sometimes dour match - St George maintained pressure whilst Penrith let the Dragons off the hook time after time.
Soward put in a fine performance as he guided St George Illawarra around the field, marshalling his forwards, directing the attack at Walsh and testing Sammut with high kicks at every opportunity. It was a tough game in the forwards, and Poore, Creagh and Smith all put in big matches. Young was tireless as he set up play after play.
For Penrith Puletua and Pritchard were standouts in the forwards and Aiton worked hard at every opportunity - unfortunately he pushed too many desperate passes.
The Dragons have left no-one doubting that they are the team to beat in 2009.
Bring on the challengers.
Match Details
St George Illawarra Dragons 25 def Penrith Panthers 6
Round 22 - Friday August 7th, 2009 07:35pm Venue: CUA Stadium, Penrith Referee: Gavin Badger & Ashley Klein
Sideline Officials: Steve Chiddy & Gavin Morris
Video Referee: Steve Clark Crowd: 19987 Halftime: Penrith Panthers 0 St George Illawarra Dragons 12
Penrith Panthers 6
Tries: Luke Lewis
Goals: Michael Gordon (1/1)

St George Illawarra Dragons 25
Tries: Ben Creagh, Jeremy Smith (2), Jamie Soward
Field Goals: Jamie Soward (1/1)
Goals: Jamie Soward (4/5)


LeagueUnlimited.com Player of the Match 3 Points: Jamie Soward (Dragons) 2 Points: Justin Poore (Dragons) 1 Point: Ben Creagh (Dragons)
LeagueUnlimited.com Live Commentary
Talk about the game as it happens -
Panthers v Dragons forum discussion - click here
!
PANTHERS: 1. Jarrod Sammut 2. Shane Elford 3. Michael Jennings 4. Brad Tighe 5. Michael Gordon 6. Wade Graham 7. Luke Walsh 8. Frank Puletua 9. Paul Aiton 10. Matthew Bell 11. Trent Waterhouse 12. Gavin Cooper 13. Nathan Smith Interchange: 14. Frank Pritchard 15. Joseph Paulo 16. Maurice Blair 17. Tim Grant; Reserves: 18. Adam Woolnough 19. Luke Lewis DRAGONS: 1. Darius Boyd 2. Brett Morris 3. Beau Scott 4. Chase Stanley 5. Wendell Sailor 6. Jamie Soward 7. Ben Hornby (c) 8. Justin Poore 9. Nathan Fien 10. Michael Weyman 11. Dean Young 12. Ben Creagh 13. Neville Costigan Interchange: 14. Dan Hunt 15. Matt Prior 16. Matt Cooper 17. Jarrod Saffy; Reserves: 18. Jeremy Smith 21. Jon Green
Saints have won six in a row, Penrith need the win to keep in striking distance of a top 4 position. The match is a sell out and we expect to see a cracker of a game.
It's a great night for footy at Penrith - not too cold, and the forecast is for a clear night. The wind may cause a few issues for the kickers and the fullbacks/wingers. U20's played in windy conditions as Saints beat the home side.
Some team changes:
St George Illawarra Stanley out, Matt Cooper to start. Fein goes to the bench, Dean Young to hooker, Matt Prior to second row. Smith to the bench.
Penrith Luke Lewis is on the bench. Grant and Woolnough drop off
0 min: Penrith kick off the get the match underway
1 min: Standard first set and Penrith run it back from their 30
3 min: Saints run it in Penriths half - Penrith take the kick easily but fumble on the first
4 min: Saints threatening - Creagh runs straight through Walsh for a TRY
4 min: TRY St George Illawarra Dragons Creagh runs straight over Luke Walsh for the try. Conversion attempt by Jamie Soward successful. St George Illawarra Dragons 6-0
6 min: Hornby splits them open and makes a big break down the left. Passes to Cooper who is tackled well by Elford
6 min: Penalty against Elford and he's on report for a high tackle. Fair call.
7 min: ATTEMPTED PENALTY GOAL St George Illawarra Dragons
St George Illawarra Dragons 6-0
7 min: Soward misses from in front
8 min: Saints inside the Panthers 30 - attacking
8 min: Saints on the Panthers line as Sammut spills the kick
9 min: And Sammut knocks one one trying to gather a loose ball. Pressure is still on Penrith
10 min: Desperate defence from Penrith results in a knock-on as Poore spills the ball. Penrith get the scrum feed on their own 10 metre line
12 min: But the ball is dropped on the 40
13 min: Relief for Penrith as Young throws one forward to Poore right on the Penrith try line
13 min: And Poore hammers Elford in a lifting tackle. On report for a dangerous throw.
13 min: Clock stopped as Elford is still down after the tackle
13 min: Elford leave the field looking groggy and bleeding from the mouth
15 min: Boyd drops a Penrith kick near the Saints line. Penrith on the attack for the first time this match
16 min: St George defend well and hold them out. Poor set from Penrith results in a handover.
18 min: Saints have the ball, 30m out from Penrith tryline
18 min: Gordon jumps high to take a Soward bomb and the Panthers run it out
21 min: Saints attacking on the Penrith 30
22 min: Gordon clean up another Soward bomb and runs it back 40 metres
23 min: Waterhouse drops it just as Penrith get inside the Saints 20
25 min: penrith have the ball on the half way line
25 min: Aiton pushes another offload and Saints get the ball
28 min: penalty to St George right on the Penrith line for a late hit on the kicker
29 min: Solid defence and Saints drop it cold
30 min: The game has become an arm-wrestle as each team goes through risk-free sets and kicks it long. Slight advantage to St George as Soward finishes each set better than his Penrith counterparts.
33 min: Penrith push a pass and again it goes down. Too many desperate offloads when they get in an attacking position. Saints run it out from their own 20
35 min: saints get 6 again on the Panthers 20
36 min: TRY St George Illawarra Dragons In a game marked by solid defence Smith strolls over from dummy half untouched. Very soft try & a big mistake by Puletua. Soward converts easily from right in front. Conversion attempt by Jamie Soward successful. St George Illawarra Dragons 12-0
39 min: Penrith turn over the ball after 6 tackles - again there was no decent 6th tackle option
St George Illawarra have dominated the first half with most of the possession, field position and the only points on the match with two converted tries. The Panthers have defended very well, but have never looked like scoring. The game is there for the taking and is a fairly dour affair - waiting for someone to take the initiative. Soward is guiding Saints around the field and doing a good job of keeping Penrith pinned in their own territory.
41 min: Saints kick it off for the restart
41 min: Sailor runs it out from the Saints line
42 min: penrith run it back from good position on their own 40
43 min: TRY Penrith Panthers Lewis scores on the back of the best set of the game from Penrith. They have come out of the sheds revitalised after the break. Conversion attempt by Michael Gordon successful. St George Illawarra Dragons 12-6
47 min: Penrith attacking again - VIDEO REF looking at a possible Luke Lewis try following a high bomb into the Saints in-goal
47 min: Steve Clark is taking a long time and it's NO TRY but it is hard to see why
48 min: Penalty to Penrith as Sammut is hit in the air by Hornby as he takes a high kick near his own line
50 min: TRY St George Illawarra Dragons Unbelievable break from his own half by Soward and he goes all the way to score. 70M TRY. He scores in the corner. Conversion attempt by Jamie Soward successful. St George Illawarra Dragons 18-6
53 min: Saints counter attack from a Penrith kick and they look dangerous
54 min: Pritchard takes an intercept and the pressure is off the Panthers for the time being
55 min: Penalty to Penrith as Creagh interferes with a kick chaser. They attack from inside the Dragons 20
56 min: Penrith kick goes dead - Saints get the restart but it should've been a drop out as Sailor took it over the dead ball line
59 min: Penrith restart with a 20M tap
61 min: poor kick from Hornby. Penrith attack from inside the Saints half
61 min: Good last tackle option from Penrith. Saints pinned in goal and will restart with a drop out
63 min: Saints hold them out with very solid defence. No way through for the Panthers
65 min: Poor kick from Walsh - Saints attack inside Penrith territory
66 min: Penrith bundle them over the sideline - Tighe hits Sailor well
67 min: Penrith get a penalty on the back of a length of the field break involving Waterhouse, Pritchard, Tighe and Jennings
68 min: Gavin Cooper drops the ball - looked like a try if he held it. Saints to run it back after some more very impressive defence.
70 min: Nathan Smith spills it for the Panthers. Saints have the ball in the Panthers half
72 min: Penrith hold them out and run it back
72 min: Another poor sixth tackle option - or lack of - and the Panthers turn it over without looking threatening at all
73 min: FIELD GOAL St George Illawarra Dragons - Jamie Soward sneaks one in to take the margin out to 13.
St George Illawarra Dragons 19-6
76 min: Penrith on the Dragons 30 with 3 tackles left
76 min: But a foward pass sees the ball go back to Saints
78 min: Saints to attack from a scrum on the Panthers 40
80 min: TRY St George Illawarra Dragons Dan Hunt puts Smith through a gap to score. Smith had some work to do - but the well timed pass from Hunt meant that he hit Sammut on the line with momentum. Conversion attempt by Jamie Soward successful. St George Illawarra Dragons 25-6
Like