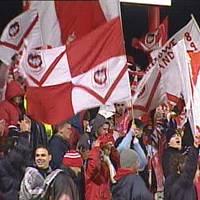 Round 13
St George Illawarra Dragons 8 v Parramatta Eels 1
at Oki Jubilee Stadium
Referees: Sean Hampstead

Match Summary:
The St George Illawarra Dragons have made a successful return to Oki Jubilee Stadium to kick off Round 13, recording a bizarre 8-1 victory over the
Parramatta Eels
in front of 9,000 soggy fans.
The match was played in heavy rain almost throughout, and a solid forward battle ensued. Neither team could gain the upper hand with their field position, meaning a scoreless first half was an inevitable result.
The match finally sparked into life with a
John Morris
field goal in the 70th minute to give the Eels a 1-0 lead, but the Dragons responded well to the challenge. Two field goals to Ben Hornby gave the Dragons a 2-1 lead, and a last minute try to
Matt Cooper
pushed the final margin out to 8-1 in favour of the home side.
Referee
Sean Hampstead
will feature heavily in post-mortems of this match - he made several "unusual" calls during the game, culminating in a communication error with the Eels as a scrum was being fed in the final 20 seconds. The resulting play led to the match-winning try for
Matt Cooper
, and players from both teams promptly left the field only to be called back for a conversion to be taken.
Thanks to the weather, this game was played predominantely in the forwards. Dean Young stood out with a strong all-round effort, while Nathan Hindmarsh produced his consistently high-standard game for the Eels.
Jeremy Smith
was placed on report late in the match, but shouldn't be in any trouble from the match reviewers.
Scorers:St George Illawarra Dragons:
8
Tries:
Matt Cooper
Goals: Aaron Gorrell 1/1
Field Goals: Ben Hornby 2/3
Parramatta Eels:
1
Tries:
Field Goals:
John Morris
1/1
By the Clock:
Welcome to Oki Jubilee Stadium!
Late changes: Eels are as per program, while the Dragons bring in Sam Isemonger and Charlie Leaneo to replace the injured duo of Shaun Timmins and Matt Bickerstaff.
KICK OFF - We're underway!
2 min: A good error-free start by both teams in pretty wet & miserable conditions.
5 min: PJ Marsh makes a clean break from dummy-half and scoots 30 metres upfield, but spills the ball forward while trying to pass it.
9 min:
John Morris
puts through a neat grubber kick that bounces off the uprights, but Dean Young is on hand to clean up. So far the Eels have looked more dangerous, although the weather is going to play a big part in the match tonight.
15 min: Still no score. As you'd expect, the forwards are doing the bulk of the work here.
Fuifui Moimoi
is producing some eye-catching hitups and tackles.
16 min: A strong 25-metre run from
Luke Bailey
is brought undone by Aaron Gorrell, who promptly kicks out on the full.
18 min: The game is slowly starting to open up - both teams are making good half-breaks, but letting themselves down with a knock-on or forward pass at the end.
21 min: Eric Grothe is seemingly tackled in-goal, but the ref somehow rules that he'd made it back to the field of play.
27 min: The arm wrestle continues - still no score, and the rain is looking heavier.
33 min: An Eric Grothe mistake gives a scrum feed to the Dragons 30 metres out from the Eels tryline - could the deadlock be broken?
34 min: Nope!
37 min: BIFF -
Timana Tahu
plays the ball then starts swinging at Corey Payne, apparently resenting a high-ish tackle. The ref disagrees, and awards a penalty to the Dragons.
HALFTIME: Dragons 0 Eels 0
Well there's very little to write home about here so far. Obviously the rain is slowing things down, and neither team has been able to dominate field position or gain a repeat set. Dean Young and Nathan Hindmarsh are leading the way for their respective teams at this stage.
Possession: Dragons 50% Eels 50%
Completion: Dragons 18/24 Eels 20/25
Total metres: Dragons 789 Eels 814
Line breaks: Dragons 1 Eels 1
The second half is underway!
48 min: Some signs of life here - a beautiful
Jeremy Smith
pass gives
Timana Tahu
some space, but the Dragons manage to close him down and force an error.
50 min:
Ben Creagh
steams onto a flat pass close to the Eels tryline but spills the ball.
51 min: VIDEO REF - checking a possible Eels try ...
51 min: NO TRY - A nicely worked movement from the Eels here;
Jeremy Smith
chips to the corner from 20 metres out and
Jarryd Hayne
wins the race, but doesn't force the ball properly.
53 min: Eric Grothe picks the ball up from his own line and charges 30 metres upfield, through several attempted tackles. Plenty of running now from both teams.
58 min: A dropped ball from the Dragons SHOULD have resulted in an offside penalty for the Eels (in easy range for a goal), but Hampstead rules a scrum instead.
63 min: Still no score. Has anyone out there taken the odds for a field goal as first scoring play?
70 min: FIELD GOAL
Parramatta Eels
And there it is! A Dragons error gives the Eels a scrum win 35 metres out, and some textbook lead-up work from the forwards gives
John Morris
a clear shot to post the first points of the night.
Eels 1-0
76 min: FIELD GOAL St George Illawarra Dragons
We're even once more! Ben Hornby puts in a kick that looked certain to miss, but just manages to squeeze over the posts.
1 all.
77 min: ATTEMPTED FIELD GOAL St George Illawarra Dragons
Ben Hornby tries a second shot from 45 metres out, and this one never even got close.
1 all.
79 min: FIELD GOAL St George Illawarra Dragons
Some great effort from the Dragons forwards presents Ben Hornby with yet another chance - and this one doesn't miss. Dragons take the lead!
Dragons 2-1
80 min: 20 seconds to go, Parra have a scrum 20 metres from their own line ... what can they do from here?
80 min: TRY St George Illawarra Dragons
The Eels have made a complete hash of the scrum, but the ball eventually found
John Morris
who puts in an awful kick.
Matt Cooper
picks up the scraps and crosses untouched to complete a bizarre finish to this match.
Hampstead has to call the players back on to the field for the conversion to be taken - and Aaron Gorrell slots the extra two.
Dragons 8-1
FULLTIME: Dragons 8 Eels 1
That has to be one of the strangest final 10 minutes I've ever seen. Both teams fired up once first points had been posted, and the Dragons were able to control their field position better and finish strongly.
There was plenty of controversy over the final scrum - it seems Hampstead blew his whistle for "time back on" just as the ball left the scrum, and
Jeremy Smith
thought he was stopping play for some reason. The delay meant the Eels couldn't chance their arms to get back into the game, and ended up handing it to the Dragons on a platter.
Possession: Dragons 50% Eels 50%
Completion: Dragons 34/45 Eels 39/46
Missed tackles: Dragons 27 Eels 19
Errors: Dragons 12 Eels 7
-----------------------------------------
Leagueunlimited.com players of the match:
3 - Dean Young (Dragons)
2 - Nathan Hindmarsh (Eels)
1 -
Luke Bailey
(Dragons)
-----------------------------------------
Like