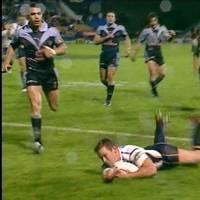 Brisbane centre Justin Hodges will spend three to five weeks on the sidelines after scans confirmed a torn hamstring. Hodges is out of the return State of Origin game in Brisbane next month and may not be back for Brisbane until the June 24 clash with Manly.
He suffered the injury in Queensland's one point Origin loss to New South Wales in Sydney last week when he was voted Queensland's best player. The injury is another blow for the Maroons, desperately looking to level the interstate series in Brisbane next month.
Shaun Berrigan (pictured) is expected play in the centres against the Warriors at the weekend.
---