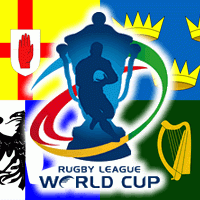 Country: IRELAND
Team name: Wolfhounds

International History: In 1995 the RFL appointed a Development Officer for Ireland, and a national team was selected to play the USA, winning a match in Washington on St Patricks Day. Ireland played in the 1995 Emerging Nations World Cup, losing the final to the Cook Islands. In the late 90s an increasing number of established players made themselves available for Ireland representative games through ancestry, and the development of league in Ireland has always had to find the balance between chances for local players and use of successful big name players with Irish links. Ireland is not yet a full member of the Rugby League International Federation and so does not have test match status, but the Wolfhounds Ireland A team drawn from players in the domestic competition play regularly against other European nations.
Domestic History: The first club in Ireland was the Dublin Blues established in 1989, mostly made of rugby union players wanting to stay fit in the offseason. The club played touring British amateur rugby league sides and competed well. In the 90s competitive matches were organised between teams drawn from the provinces of Leinster and Ulster through schoolboy matches were played between Dublin and Belfast schools. The game also spread to the province of Munster with a team based in Cork, and an open-age knockout cup competition between clubs was established. In 2006 an attempt was made to bring together the regional conferences of Munster and Leinster provinces into an all-Ireland league. Games are played between May and August each year. Changes to the structure of the league and conferences in recent years and the inclusion for the first time of a team from Connacht province have given Rugby League in Ireland positive hope for further development.
Notable Past Player: Barrie McDermott is a well known English-born prop forward who enjoyed a twelve season first grade career with English clubs Wigan and Leeds Rhinos. McDermott represented Great Britain in test matches spanning a decade and was known for his rugged approach to the game. He is one of a select number of UK-based players well known enough to have published an auto-biography about his playing career. Barrie also represented Ireland on 13 occasions and has gone onto be assistant manager of the Ireland side, making an unexpected final playing appearance in Ireland
---