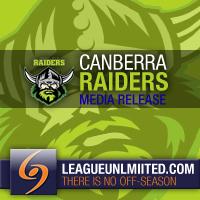 Local Liquor and Canberra Milk stick with the Raiders

Two of the Canberra Raiders most loyal sponsors will feature in new roles for the 2013 season, with Local Liquor and Canberra Milk restructuring their sponsorship agreements with the club this week.

From next season Local Liquor will move from the sleeve sponsorship role to take up a new position on the clubs shorts, while Canberra Milk has updated their agreement to help benefit the Raiders.

Canberra Milk will remain a major sponsor of the club despite giving up their position on the Raiders uniform next season, but will still be represented on the ground at Canberra Stadium through their iconic goal post pads.

The move from Local Liquor and Canberra Milk has allowed the Raiders to bring a new sponsor on board for the 2013 season, with Defence Housing Australia last month announcing their new association with the Green Machine as sleeve sponsor.

Raiders CEO Don Furner said the restructuring of the clubs sponsorship properties allowed for long term sustainability and said the loyalty of the clubs sponsors was something that the club was very proud of.


---