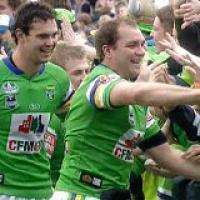 vs

06-06-2010 02:00PM at Canberra Stadium
Referee: Gavin Badger and Phil Haines
Touch Judges: David Abood and Adam Gee
Referee: Chris Ward

Sunday's triple header continues as we move from a drizzly Auckland to the beautiful chill of our nation's capital where the mercury will reach a top of 16 degrees. Weather predictions in Canberra quote the following - "Frost, then sunny". We predict that this is exactly how the match will play out for the Titans as they struggle to acclimatise, but bring it home in the end.
The Titans have the mental fortitude required to win in Canberra on Sunday and will be well motivated after suffering recent losses either side of a bye. Not good for a club aiming at a top 2 finish, however they find redemption here. The Raiders bust out to a lead in the beginning led by their powerful forward pack but the Titans class will prevail through an improved defensive performance and a standout showing by
Nathan Friend
. Upset of the week.
My Man of the Match Prediction: Nathan Friend
My Tip: Titans 30-26
The Teams
Head to Head
DragonPunk
(Justin Davies)
Titans
Total Score
86
Twizzle
(Kevin Brennan)
Raiders
Total Score
84
Non Terminator
(Josh Hill)
Titans
Total Score
84
CobyDelaney
(Coby Delaney)
Titans
Total Score
70
Willow
(Steve Williams)
Titans
Total Score
60
Other Games this Round
Like