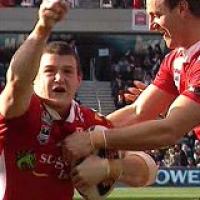 vs

06-06-2010 12:00PM at Mt Smart Stadium
Referee: Ashley Klein and Bernard Sutton
Touch Judges: Ricky McFarlane and Luke Phillips
Referee: Paul Simpkins

The beginning of a Sunday afternoon triple header. This game epitomises a Rugby League season in full swing. We are half way through the competition proper, the weather has turned cold and there is a midday game from Mount Smart. For those of us in the Australian east coast, enjoy a sleep-in and just as you've finished a very late breakfast, the excited twang of Darryl Halligan will be ringing in your ears. Enjoy.
Then, as you sip on a hot coffee and contemplate your tips from Saturday night, the Dragons should be at their stingy best and will be in full control of this match. As usual it won't reflect on the scoreboard until late in the game. Last year's minor premiers defend as they do, and then pull away through the speed of
Brett Morris
and
Jamie Soward
against a beaten Warriors pack. The Beast returns from injury to make your Sunday that much more exciting.
My Man of the Match Prediction: Brett Morris
My Tip: Dragons 27-4
The Teams
Head to Head
DragonPunk
(Justin Davies)
Dragons
Total Score
86
Twizzle
(Kevin Brennan)
Dragons
Total Score
84
Non Terminator
(Josh Hill)
Dragons
Total Score
84
CobyDelaney
(Coby Delaney)
Dragons
Total Score
70
Willow
(Steve Williams)
Dragons
Total Score
60
Other Games this Round
Like