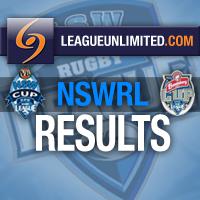 BUNDABERG RED CUP ROUND EIGHTEEN RESULTS:
Kingsgrove Colts
38 def.
Blacktown Workers
28
The Entrance Tigers
44 def.
Mounties
8
Windsor Wolves
18 def.
Cabramatta Two Blues
10
Wentworthville Magpies
44 def. Burwood North Ryde United 26
St Johns Eagles 52 def.
Auburn Warriors
12
To view the Bundaberg Red Cup ladder at the completion of the regular season click on the link below:
http://www.nswrl.com.au/default.aspx?s=brc-ladder
Below is the schedule for week one of the Bundaberg Red Cup Finals Series:
Game One
St Johns Eagles (4th) Vs Cabramatta Two Blues (5th)
New Era Stadium
, Saturday, September 1
Kick-off: 1pm
Elimination for the loser, winner plays the loser from game two in week two
Game Two
Wentworthville Magpies (2nd) Vs Windsor Wolves (3rd)

New Era Stadium
, Saturday, September 1
Kick-off: 3pm
Winner to play Entrance in week two, loser plays winner from game one in week two
Subscribe to our eNewsletter
Keep up to date with all the happenings in the world of Rugby League with our free eNewsletter!
Facebook
FULL TIME at 1300SMILES Stadium, with the Cowboys defeating the Sharks 20-19.

See how it all unfo...

2 hours ago - 2 Likes

HALF TIME at 1300SMILES Stadium, and the Sharks and Cowboys are all tied up at 12 all.

Follow all...

3 hours ago

Vodafone Warriors 2015 logo celebrating 20 years. Your thoughts?

1 day ago - 25 Likes

FULL TIME at Mt Smart Stadium, with the Warriors defeating the Titans 42-0.

See how it all unfold...

1 day ago

KICK OFF in just a few minutes at Brookvale Oval in the clash between the Sea Eagles and Panthers.
...

1 day ago