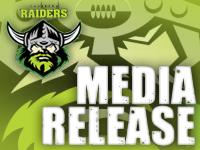 Raiders and ARL Development lead the way in Grassroots Development

The Canberra Raiders and ARL Development are leading the way in the ACT region for rugby league grassroots development within schools in the area.

Recent figures released by the Australian Rugby League Development Head Office convey the Raiders passionate and continued support of the extended Canberra region.

The Canberra Rugby League Development Officers had contact with a total of 13 359 school students in 2011, with the young boys and girls being taught the basics of the wonderful game of rugby league and the values of a healthy lifestyle.

The Raiders will look to improve on this figure in 2012 to continue their support of the ACT schooling system's sport and recreation programs.

The total figure included 4947 students who were involved in coaching clinics, 6192 students who were involved in gala days, 2070 students who were involved in community programs and 150 students involved in regular competitions.

National Schools Manager for Australian Rugby League Development, Debbie Brewin, said that the Raiders have done a marvellous job at a grassroots level and that the numbers outlined could have actually been much greater when you take into account the work the club and ARL Development does in Canberra's surrounding regions.


---