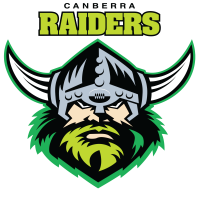 Canberra have scored three tries in the final thirty minutes to overcome a gutsy Warriors side 20 points to 16 in front of 9,699 fans at Canberra Stadium tonight.

Two teams who have struggled through the opening five weeks of the competition, Canberra and New Zealand came out committed looking to find some form.

Warriors were forced to defend their line early with penalties and errors handing it back to Canberra. The home side pounced in the 11th minute when after a few kicks on last, Sandor Earl was in miles of space to score.

Parity would be restored in the 15th when Manu Vatuvei grabbed his first despite a contentious final pass. Vatuvei had a brace ten minutes later following a simple sweep play showing the Warriors weren't going away quietly.

The game settled down from it's early frantic pace with both sides looking to hold possession. There was a roar when talisman five-eighth Terry Campese returned to the field but no points going to the break.

Six minutes into the second half, Warriors added to their lead with Vatuvei evading a 5th tackle kick for Ben Henry to pounce and extend the lead to 16-6 for the visitors.

Following that though started a prolonged spell of dominance for the Raiders where they over ran the Warriors who were forced to tackle twice as much as their opponents.

Sam Williams swooped on a McCrone offload for the Raiders second before Edrick Lee entered the contest. His first try was scored despite the attention of three defenders and leaving the home side trailing by two.

Despite the Warriors continuing to cough up the football like a cat with a hairball, Canberra weren't able to convert their dominance. That was until a massive leap suited more to Manuka Oval than Canberra Stadium from Lee gave them the lead and a much needed home victory.

Match Details
Canberra Raiders 20 New Zealand Warriors 16
Venue: Canberra Stadium
Crowd: 9,699
Halftime Score: Warriors 10-4

LeagueUnlimited.com Players of the Match:
3 points - Terry Campese
2 points - Edrick Lee
1 point - Manu Vatuvei

CANBERRA RAIDERS (20)
Tries: Sandor Earl, Edrick Lee (2), Sam Williams
Conversions: Jarrod Croker (2/4)

NEW ZEALAND WARRIORS (16)
Tries: Manu Vatuvei (2), Ben Henry
Conversions: Shaun Johnson (2/3)

LeagueUnlimited.com Live Commentary
Welcome to Canberra for tonight's contest between Canberra Raiders and New Zealand Warriors. It features the return of Terry Campese for the home side!
TEAM CHANGES:

CAN: Terry Campese and Joel Thompson return in #18 and #19 respectively with Anthony Milford and Joe Picker dropping out.

WAR: Dane Nielsen is IN and Ben Matulino start. Bill Tupou is out and Sam Rapira goes to the bench.
1 min: KICK-OFF!
2 min: We have the first PENALTY of the night. Warriors offside.
3 min: Horror start for the Warriors. Two PENALTIES and a knock on. Raiders right on the attack.
5 min: ANOTHER set coming for the Warriors, following a dropout. Raiders will want to make this pressure toil.
7 min: Raiders have it over the tryline but it was ruled forward. Shillington also walks off with an injury.
10 min: POSSIBLE TRY Raiders! Checking the grounding.
11 min: TRY CANBERRA RAIDERS
It was examined and GREEN LIGHT! TRY! Sandor Earl following a succession of kicks plants the ball down with a slight suspicion of offside. Croker misses the conversion.

Scored by Sandor Earl. Conversion attempt by Jarrod Croker unsuccessful.
Canberra Raiders 4-0
15 min: TRY NEW ZEALAND WARRIORS
TRY Warriors! They kept it alive on last tackle with quick hands that finishes with Vatuvei who puts it down for the TRY. Vatuvei's reaction shows that the final pass for the try was forward. Johnson from the sideline, misses after hitting the post.

Scored by Manu Vatuvei. Conversion attempt by Shaun Johnson unsuccessful.
4 all
18 min: Dane Nielsen is down after a neck injury. He is getting checked on.
18 min: Jack Wighton is ON REPORT for the tackle on Nielsen.
25 min: TRY NEW ZEALAND WARRIORS
Good set play from the Warriors, they got Kevin Locke one on one with his defender and he finds Vatuvei in space who touches down with another simple try Johnson with another tough conversion, goes over.

Scored by Manu Vatuvei. Conversion attempt by Shaun Johnson successful.
New Zealand Warriors 10-4
27 min: Dear, oh dear. Reece Robinson drops it stone cold on first tackle allowing the Warriors a whole set at their line.
27 min: Or not?! From the scrum Laumape is picked up and taken into touch.
30 min: Injuries galore tonight: David Shillington is off with Pita Godinet also off.
30 min: A big cheer here for Terry Campese on his return to the NRL.
33 min: Splendid kick from the Raiders there highlighted by the first chaser being TERRY CAMPESE.
40 min: HALFTIME! After a frantic opening twenty minutes, the game has calmed down and Warriors head into the break leading 10-4.
41 min: Warriors kick-off the second half. Raiders with first possession.
41 min: NEWS IN: Pita Godinet pulled out right before kick-off, so Bill Tupou is in the side and on the field for Dane Nielsen.
44 min: POSSIBLE TRY.. WARRIORS: BEN HENRY! We have gone upstairs to check for an error.
46 min: TRY NEW ZEALAND WARRIORS
GREEN LIGHTS.. TRY! A nice kick evades being touched by Vatuvei but Ben Henry doesn't miss and scores the Warriors third try. Johnson converts.

Scored by Ben Henry. Conversion attempt by Shaun Johnson successful.
New Zealand Warriors 16-4
46 min: PENALTY Raiders. The count is at 3-0 for the home side now.
48 min: Josh Papalii is away in the clear but he has the blinkers on so can't see Sam Williams. He in turn spills it into the hands of Vatuvei.
52 min: PENALTY Raiders! Offside against the Warriors.
52 min: Add another to the injured list. Sandor Earl has done his medial ligament and won't return.
53 min: VIDEO REFEREE: Possible TRY! Edrick Lee doing the superman dive which is common for wingers these days.
54 min: TRY CANBERRA RAIDERS
It's been given the GREEN LIGHTS! Edrick Lee was given ball in space and with three defenders on him is able to keep himself and the ball inside for the four pointer. Croker with the conversion, hits the upright and out.

Scored by Edrick Lee. Conversion attempt by Jarrod Croker unsuccessful.
New Zealand Warriors 16-8
55 min: A huge bomb put up by Williams which is spilled by Vatuvei and picked up by Laumape. Offside. PENALTY Raiders.
57 min: Upstairs we go again, checking if Joel Thompson got it down first but referee has said NO TRY.
57 min: NO TRY which was academic but it'll be a Warriors dropout. Raiders to pour on the pressure again.
59 min: Raiders were unorganised in that set meaning Dane Tilse kicked on last.
59 min: Todd Lowrie has thrown it straight to the Raiders!
60 min: PENALTY Raiders! Williams was heading over the sideline but his momentum was stopped thus a penalty.
60 min: TRY CANBERRA RAIDERS
Last tackle, McCrone goes himself despite the protests of Campese and pops an offload to Williams who touches down for a try. Croker converts.

Scored by Sam Williams. Conversion attempt by Jarrod Croker successful.
New Zealand Warriors 16-14
65 min: Oh no, Shaun Johnson is down for the Warriors with a knee injury. This could be devastating for New Zealand.
65 min: The enigma that is Feleti Mateo, he can do some great things but also does things like this a forward pass in their own half.
67 min: Once more we go upstairs, checking grounding and a hold back on Jarrod Croker.
68 min: NO TRY.. PENALTY! Croker was held back. They opt for the tap.
68 min: Spoiled though, forward pass from Campese.
69 min: Warriors just can't hold onto the ball. They drop it again.
70 min: Raiders were composed that set, ran their plays and rolled it in for another set.
72 min: Raiders trying to gain the lead for the first time since Earl's try but they've knocked it on.
74 min: Warriors error again but can the Raiders cross that stripe?
75 min: Now a Raiders error and Johnson recovers the ball.
75 min: Is there soap on the ball? Warriors drop it AGAIN.
77 min: TRY CANBERRA RAIDERS
WHAT A LEAP! Campese floats one that hangs in the air for Edrick Lee to fly through the air and score what may be the match winner for the Canberra Raiders. Croker from besides the posts, slams it through.

Scored by Edrick Lee. Conversion attempt by Jarrod Croker successful.
Canberra Raiders 20-16
78 min: Short kick-off from the Warriors but it doesn't come off. Josh McCrone has the ball.
80 min: Warriors can't do anything with their six and try the bomb! It comes down the Raiders and that should be that, tonight. FULLTIME.
Like