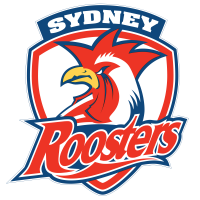 It was a night full of points at Allianz Stadium with the Sydney Roosters posting an impressive 50-0 win over the Parramatta Eels in front of 18,014 fans to conclude the Easter long weekend.

A tense opening ten minutes exploded into action in the 12th minute when a long kick found it's way to Jake Friend who sent it through the hands to Jared Wearea-Hargreaves to open the scoring.

In the 20th minute, Friend was involved again scooting from marker to allow Maloney to grubber for his halves partner and bat it into the waiting hands of Sonny Bill Williams making it 10-0.

After Tuivasa-Sheck crossed in the 29th minute following a Pearce bomb it was going to be a long night for the Eels.To heap the pain on just before halftime, Tuivasa-Sheck crossed again for a 22-0 lead at the break and a long road back for the Eels.

Seven minutes into the second half, the floodgates opened when another of the Roosters big signings got on the board. This time Michael Jennings showed a glimpse of his footwork to slide in for his first try and the Roosters fifth.

Parramatta weren't able to get anything going, as they fumbled the ball in good attacking areas allowing the Roosters to go in for the kill.

Roger Tuivasa-Sheck hadn't scored an NRL try before tonight but registered a hat-trick in the 65th minute after a Sonny Bill cutout pass, driving in another nail to the Eels coffin.

Roosters finished with a flurry to raise the bat for the half century of points with Daniel Mortimer, Daniel Tupou and Boyd Cordner all crossing for four pointers to douse any excitement built from the Eels opening month of the season.

Match Details
Sydney Roosters 50 Parramatta Eels 0
Venue: Sydney Football Stadium
Crowd: 18,014
Halftime Score: Roosters 22-0

LeagueUnlimited.com Players of the Match:
3 points - Jared Waerea-Hargreaves
2 points - James Maloney
1 point - Sonny Bill Williams

SYDNEY ROOSTERS (50)
Tries: Jared Waerea-Hargreaves, Sonny Bill Williams, Roger Tuivasa-Sheck (3), Michael Jennings, Daniel Mortimer, Daniel Tupou, Boyd Cordner
Conversions: James Maloney (7/9)

PARRAMATTA EELS (0)

LeagueUnlimited.com Live Commentary
Two teams with contrasting fortunes so far in 2013 - the Eels started strongly against the Warriors in Round 1, but winless since. The Roosters were ordinary in the first round against South Sydney in the season opener, however have turned it all around with 2/2 since.
TEAM NEWS: Only one alteration to the teamlists named on Tuesday - the Roosters have replaced Aiden Guerra with debutant
Isaac Liu
on the bench in jersey #20. Parramatta are 1-17.
Both teams have hit the field ready for action tonight! Sydney will kick-off, running right to left while Parramatta get first use of the ball. Here we go!
6th Minute: First PENALTY of the game, to the Roosters for offside. They tap and go.
Parramatta are let off the hook after seveal Rooster attacks are offside, in front of the kicker.
10 min: Got through ten mistake free minutes of football as both sides have been happy to ruck it up and launch it deep.
15 min:
Smart dart by
Chris Sandow
finds a Roosters player offside. PENALTY.
16 min: Sandow tries the quick hands down the right but the pass bounces into Jennings and goes backwards to a team-mate.
16 min: They hand it right back though with an error on their own thirty. Parramatta right back on the attack.
16 min: Last tackle and there is no gaps for Sandow to run at, so he stabs one through for Loko who spills it trying to reel it in.
20 min:
TRY SYDNEY ROOSTERS
That all came from Friend's quick play the ball, Maloney spies Hayne out of position and puts a grubber through for Pearce but it bounced too high so he batted it back for Sonny Bill to fall on and score. Maloeny with a tougher conversion this time hits the post and out.
Scored by
Sonny Bill Williams
. Conversion attempt by
James Maloney
unsuccessful.
Sydney Roosters
10-0
23 min: The Roosters are just too fast for the Eels currently and force this penalty as they try to slow them down.
26 min: Sandow trying to hand to his 40/20 tally on last but it goes out on the full.
29 min:
TRY SYDNEY ROOSTERS
Wow.. last tackle, Pearce sends it down the right and finds Tuivasa-Sheck who tiptoes inside the touchline while planting the ball down. Maloney from the other side of the touchline, slots it.
Scored by
Roger Tuivasa-Sheck
. Conversion attempt by
James Maloney
successful.
Sydney Roosters
16-0
31 min: Late tackle penalty for the Eels.. Can they conjure up something?
34 min: Roosters just killing the Eels with quick play the balls. They try the short pass to Jennings but it's spilled.. luckily they get a PENALTY.
36 min:
TRY SYDNEY ROOSTERS
Too much pressure on the Eels and they have conceded again.. quick hands finds Tuivasa-Sheck in space and he dives in for his second!
James Maloney
has a conversion attempt from the same position as his last and converts again.
Scored by
Roger Tuivasa-Sheck
. Conversion attempt by
James Maloney
successful.
Sydney Roosters
22-0
40 min: Parramatta have one attacking play.. the bomb and it went straight to Tuivasa-Sheck. HALFTIME.
41 min: We're back for the second half! Hayne puts boot to ball and here we go again!
42 min: Crowd has been announced for tonight: 18,014
42 min: Needless extra flop by Tuivasa-Sheck gives away the PENALTY.
43 min:
Terrible dummy-half pass from
Ben Roberts
forces Lussick to pick it up from his boots and knock it on.
44 min: Penalties flowing here in the second half. Another penalty for holding on too long against Parramatta.
47 min:
TRY SYDNEY ROOSTERS
Nice footwork by Jennings following the tap-on from Minichiello allows him space to step, beat his man and score! Another tough kick for Maloney and hits the left upright for the second time.
Scored by
Michael Jennings
. Conversion attempt by
James Maloney
unsuccessful.
Sydney Roosters
26-0
48 min: Strip penalty against the Roosters. Eels start from 40 metres out.
49 min:
Ben Roberts
not having the finest game.. knocking on at dummy-half.
52 min:
Parramatta actually getting a play going but
Ryan Morgan
is taken out over the sideline.
53 min: PENALTY and here comes the Roosters again.
54 min: Tuivasa-Sheck goes for a charge but produces a slight bobble. Parramatta scrum.
55 min: Eels are getting some plays together but the final ball isn't sticking. Loko goes down the left, taking on his man and offloads to Toutai who spills it.
57 min: Same play again.. Toutai is running onto a ball flat, drops it.
58 min: Roosters try the cross-field kick for Tupou but it is knocked on.
65 min:
TRY SYDNEY ROOSTERS
It's a HAT-TRICK for
Roger Tuivasa-Sheck
. Following an errant pass from the Eels, Roosters are back on the attack. A good cut-out pass finds Tuivasa-Sheck in space and diving for the try. Maloney has made a home on the sideline tonight with his conversions but sneaks this one inside the post.
Scored by
Roger Tuivasa-Sheck
. Conversion attempt by
James Maloney
successful.
Sydney Roosters
32-0
67 min: Hayne sweeps across for the second man play but his pass hits Morgan too hard and is spilled.
69 min: Roosters away down the left wing again through Tupou but he is grassed again. On the next play, Hayne knocks the ball down. It'll be another set for the Roosters.
74 min:
TRY SYDNEY ROOSTERS
This is getting too easy for the Roosters. A chip kick from Maloney is regathered by himself and passes to Cordner who is tackled. Next tackle, Jennings goes the short side and gives Tupou an easy try. Maloney has had a lot of kicking practice and puts it right down the middle.
Scored by
Daniel Tupou
. Conversion attempt by
James Maloney
successful.
Sydney Roosters
44-0
76 min: Loko with a spilled ball. This won't be pretty viewing in training.
79 min:
TRY SYDNEY ROOSTERS
THERE IS THE FIFTY! Mortimer gives Cordner the pass from dummy-half and he does the rest, bumping off players, spinning and scoring the try! Maloney slots it to make it the half century.
Scored by
Boyd Cordner
. Conversion attempt by
James Maloney
successful.
Sydney Roosters
50-0
80 min: Liu runs it back with vigor and collides with Sandow.
80 min: FULLTIME. Roosters have embarrassed the Eels here tonight at the SFS.
---