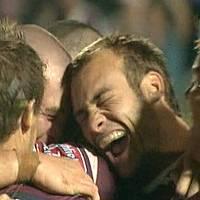 The Manly Sea Eagles have defeated Wests Tigers 19-8 in a forgettable match at Leichhardt Oval this evening. The start of the match was slightly delayed due to a massive downpour that knocked Fox Sports off the air for 15 minutes.
Both sides were still willing to move the ball around despite the conditions, and Manly opened the scoring after only six minutes with a set play seeing Anthony Watmough score. Manly were denied a second try after 14 minutes for interfering with a defender attempting to make a catch.
The Tigers finally took advantage of a lopsided penalty count early on, Benji Marshall kicking a penalty goal following a penalty for Manly slowing down the play the ball. Ten minutes later and another Manly try was disallowed for players being in front of the kicker.
The Tigers hit the front just after the half hour mark thanks to a Robbie Farah try that had some hints of obstruction. Manly had the last laugh in the half, with winger Michael Robertson collecting a cross field kick to score comfortably in the corner. Jamie Lyon missed the conversion, putting the Sea Eagles up 10-8 at half time.
Manly had their third try disallowed just after half time after another obstruction was called. Only a few plays later the Tigers coughed the ball up and Matt Ballin put Manly up by a crucial eight points.
Another Manly try was rejected just short of the hour mark, however they picked up a penalty for obstruction on a player chasing the kick. Jamie Lyon missed the two points. As the match drunkenly lurched towards a conclusion, the Tigers made far too many mistakes to ever challenge Manly. A late penalty and field goal gave Manly the 19-8 winning margin.
The crowd was an impressive 15,185 which puts last nights embarrassing Kogarah crowd to shame.
Round 2 - Full Time :: March 24th, 2007 05:30 PM Venue: Leichhardt Oval Referee: Tony Archer
Wests Tigers (8.) Tries: Robert Farah Goals: Benji Marshall (2/2) Manly Sea Eagles (19) Tries: Anthony Watmough, Michael Robertson, Matt Ballin Field Goals: Michael Monaghan (1/1) Goals: Jamie Lyon (3/4)
Good evening from Leichhardt Oval. The game is slightly delayed due to bad weather.
It is totally pissing down.
1 min: And we are underway in driving rain.
2 min: BIFF - some players get into some push and shove. Looks promising for a good fight later on.
2 min: Manly are penalised for obstruction on attack.
3 min: The Tigers spin the ball left and make a break before almost being put into touch.
6 min: TRY Manly Sea Eagles Monoghan puts Watmough into a half gap, he breaks several tackles and scores under the posts. Conversion attempt by Jamie Lyon successful. Manly Sea Eagles 6-0
9 min: Hicks spills the ball after a clearing Tigers kick, putting the Tigers on attack 11 metres out.
10 min: Farah puts in a nothing grubber kick, however it does net them a line dropout.
12 min: Apologies for the use of the phrase 'totally pissing down'. It is more apt than 'raining really, really hard' however. The game is currently very much end-to-end football with both teams willing to make use of the ball despite the rather inclement conditions.
14 min: VIDEO REF - For a Manly try...
14 min: NO TRY - PENALTY - Manly are penalised for interfering with a player trying to catch a ball.
16 min: PENALTY GOAL Wests Tigers Manly are penalised for slowing down the play the ball. Marshall knocks the two points over from right in front. Manly Sea Eagles 6-2
25 min: A potential Manly try is wiped out for offside.
26 min: Bell knocks on picking up the ball from dummy half. Several mistakes in the game, but given the weather it can't be helped.
28 min: Manly are warned for giving away too many penalties at the play the ball - the count is 7-1.
31 min: VIDEO REF - For obstruction on a Tigers try
31 min: TRY Wests Tigers Farah cuts through a gap and scores next to the uprights. Some hint of obstruction in that try. Conversion attempt by Benji Marshall successful. Wests Tigers 8-6
40 min: Almost half time - and none too soon, the rain is bucketing down.
40 min: TRY Manly Sea Eagles Monoghan kicks across field, the Tigers aren't expecting it and Robertson scores untouched. Conversion attempt by Jamie Lyon unsuccessful. Manly Sea Eagles 10-8
HALFTIME: Manly hold a slender 10-8 lead over the Tigers in an ugly game thus far.
Back on the field for the second half.
40 min: Back underway in the wet at Leichhardt!
45 min: VIDEO REF - For another Watmough try...
45 min: NO TRY - PENALTY - Manly are penalised for obstruction. Manly with their third disallowed try.
47 min: TRY Manly Sea Eagles After a Tigers mistake, Monoghan gets a great offload to Watmough who gets the ball to Ballin who scores. Far too many cheap turnovers from the Tigers. Conversion attempt by Jamie Lyon successful. Manly Sea Eagles 16-8
49 min: Manly lose the ball from the kickoff after the ball hangs in the wind.
55 min: Moodie tries to trap a ball after a Manly kick, fortunately he managed to avoid getting a touch on the ball as it rolled into touch. However, from the scrum base, Fulton loses the ball. Errors are ruining the Tigers.
57 min: VIDEO REF - For a Manly try....
57 min: NO TRY - PENALTY - The try is not awarded because the player who grounded the ball was on the dead ball line, however a player chasing the kick was obstructed so Manly get a penalty.
57 min: ATTEMPTED PENALTY GOAL Manly Sea Eagles Lyon hits the posts taking a shot for goal from the above mentioned incident. Manly Sea Eagles 16-8
64 min: Benji puts a kick out on the full, Manly back on attack. The Tigers have made some terrible errors tonight, however they are less and less attributable to the weather. Manly should go on with this off the back of their weight of possession.
68 min: The Tigers are penalised on attack for an obstruction.
71 min: Matt Ballin kicks a stunning 40/20, Lyon drops the ball on the first tackle.
72 min: CROWD - 15, 185
75 min: The Tigers make a break, but can't get the ball to support and Bronson Harrison ends up being bundled into touch.
79 min: PENALTY GOAL Manly Sea Eagles The Tigers are penalised for a strip. They are marched 10 more metres for dissent, and Lyon seals the win for the Sea Eagles. Manly Sea Eagles 18-8
80 min: FIELD GOAL Manly Sea Eagles Monoghan attempts a field goal as the siren sounds, somehow it creeps over the crossbar to make the winning margin 11 points. Manly Sea Eagles 19-8
FULLTIME: and Manly have won an ugly game.
LeagueUnlimited.com Player of the Match 3 Points: Matt Ballin 2 Points: Anthony Watmough 1 Point: Michael Monaghan
---