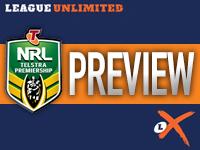 Brisbane Broncos v Cronulla Sharks
Round 18 of the season opens on Friday night from Suncorp. The Sharks travel north without their captain but face a Broncos team without their captain and a few other superstars. In the corresponding fixture last year, the Sharks marched into Queensland and beat the stuffing out of the baby Broncos with Wade Graham the standout. This time, the home side won't be ambushed but they'll still be struggling.
Brisbane have lost two in a row and were held scoreless against the Storm last start. Their attack has completely stalled and their defense, while willing, simply cannot cope with the pressure of protecting no points. If the Cronulla outside backs can hold on to the ball and finish what Todd Carney starts, the visitors will be too good. Somehow, Carney has made it to his 150th 1st grade game. A miracle, really, and one that he should be congratulated for.
My tip: Sharks 20-14
Parramatta Eels v Penrith Panthers
Looking at the Parramatta team list for Saturday night's match against the Panthers, you can't help but wonder how any of them can be ready to perform at their best for this match. Many of them have no future with the club, let alone rugby league, and many others are getting 1001 chances after being dropped 1000 times. I'm not sure if my maths is correct here but if anyone has a Ben Roberts relegation counter, send it my way.
Poor Parra – they'll get a first-hand, close up view of what resurgence looks like. They'll take a big whiff of what rebuilding smells like and they won't like it one bit. The Panthers are, now, all that the Eels could have been. They've trusted youngsters, dropped superstars and rewarded effort off the paddock. The visitors sit in 7th position on the ladder, have won their past two matches and the Eels have a miserable future ahead of them. Good lord.
My tip: Penrith 24-12
Canterbury Bankstown Bulldogs v Melbourne Storm
A grand final replay, buried in the black hole of all fixtures - the Sunday before Origin 3. Honestly, what are we thinking here? We are not even trying at this point, are we?! I'm no marketing genius but couldn't this match, between the two best teams in the competition in 2012, possibly have been turned into a blockbuster if it was played at ANY OTHER TIME, aside from during the rep season? Don't answer that; in fact let's just get on with it.
The big news here is that the great Ben Hampton re-joins Brett Finch in the halves to take on the grizzly old veteran pair of Trent Hodkinson and Joel Romelo. Both the 'Dogs 7 and 7 are great defenders but must do more. They must demand consistency from their teammates. Canterbury were a mess with the ball in hand last week and if they hold on to it this week, they deserve to be $1.25 favourites. Melbourne won't have the points to keep up.
My tip: Canterbury 24-12
North Queensland Cowboys v Manly Sea Eagles
Monday night footy comes from Townsville on a wet and balmy night in the tropical north. Plenty of players missing through rep duty but do your best to enjoy this – if anything it should keep your mind occupied to help get through the origin 3 countdown. The nerves would have already started by this stage so let's keep a lid on things by enjoying the Ray Thompson / Robert Lui combination for the Cowboys, up against the Peter Hiku experiment at halfback for the Eagles.
Manly should be too good for a home side that will struggle for points, struggle for go-forward and unable to get the usual boost they get from playing at home. It may not be as easy as the Cowboys' previous match against Parra last week, but the Eagles will work hard enough to put away an enthusiastic but outmatched home side. Jamie Lyon and Glenn Stewart the standouts as Manly beat North Queensland for the 5th consecutive time.
My tip: Manly 30-12