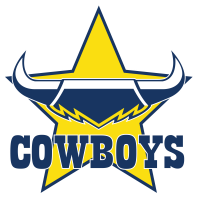 JOHNSON TO RETIRE AFTER STELLAR LEAGUE CAREER
Inspirational North Queensland forward Dallas Johnson has decided the 2013 NRL season will be his finale, ending a career that has featured Test and State of Origin honours and almost 250 first grade matches.
The 30-year-old from Herberton made the announcement at Cowboys HQ today ahead of his club's do-or-die Rivalry Round clash with the Brisbane Broncos at 1300SMILES Stadium on Friday night.
Johnson has been a Toyota Cowboy for the past three seasons after joining the club from the Catalan Dragons in Super League.
He created his reputation as one of the game's premier back-rowers in a 157-game career with the Melbourne Storm that included being part of three grand final squads.
"It is a difficult time and decision to walk away from the game, but having played footy since I was just a kid, and having now had 11 seasons in first grade, I have decided that it is time to move on," Johnson said.
"Physically I could probably continue, but mentally I have had enough.
"I'm content with how my career panned out and it is not fair to myself, my teammates or the club to continue if I can't commit mentally to the level required to play in the NRL after this season.
"The game of rugby league has given me the opportunity to live the dream of so many young kids.
"At some time in the future I'm sure I will pinch myself and reflect on the wonderful memories and friendships that I have from the game.
"I love the game and feel very proud and privileged to have had the opportunities afforded to me but it is time for me to move on and in particular I am looking forward to being able to spend some more time with my young family."
Johnson indicated that he wasn't exactly sure what life post this season would hold, but hoped to remain associated with the game in some capacity.
"I'm not exactly too certain what I intend to do once I retire, but rugby league is a big part of my life so I would like to be able to remain involved in some capacity," he said.
"I've also started a business called Insight Cash which I would like to continue to grow.
"I have always thought that I would stay involved in rugby league in some capacity and hopefully that opportunity will evolve.
"Right now though, I still have a job to complete with the team on the field for the remainder of the season."
Cowboys CEO Peter Jourdain said Johnson had brought a high level of professionalism, as well as on-field skill and determination, to North Queensland.
"He's been part of our leadership group since coming here in 2011. You wouldn't find a better role model for young footballers," Jourdain said.
"We love having him at the Cowboys, especially considering he is North Queensland through and through, and his teammates love playing alongside him.
"Everyone at the Cowboys thinks very highly of Dallas and wishes him all the best in his post-league career.
"We're hoping that he'll remain involved in our club in some capacity in the future."
After making his NRL debut in 2003, Johnson was called up to the Queensland State of Origin team for the first time in 2006 and he played 12 matches for the Maroons through to the 2009 series.
His 2007 form, including being part of Queensland's second series win of their current record-breaking streak, was rewarded with his selection in the Australian team for a Test against New Zealand in October.
In the same season, he made a record-breaking 62 tackles in Queensland's victory over New South Wales in the second match of the Origin series.
During his stint with North Queensland, the lock forward has set club records for most tackles in a game (64 against the Parramatta Eels) and most tackles by a player in a season (1006 at average of 41.9 per game).
Earlier this year, he captained the Cowboys for the first time against the Gold Coast Titans.
Heading into Friday night's clash with Brisbane, Johnson has played 221 NRL matches, including 64 for North Queensland.