Viewing entries tagged with 'Test match'

May 3rd 2009 05:39pm by League news
10 of the 13 starting players in the Kangaroos line-up and all 7 men in the backline are Queenslander's after ARL chairman Colin Love announced the side to take on New Zealand next Friday.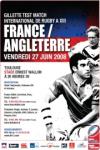 June 28th 2008 09:34am by Simon Reuben
GILLETTE Fusion Test Match Review played out in Toulouse...

April 16th 2007 01:53pm by Matt Starkey
THE Australian team and New Zealand squad for Friday's Test match at Suncorp Stadium.
Subscribe to our eNewsletter
Keep up to date with all the happenings in the world of Rugby League with our free eNewsletter!
Facebook
Take a look over how the 2014 Finals Series as we enter Week 3 of NRL and Holden Cup Finals, plus a ...

2 days ago - 5 Likes

Two #VBNSWCup FINALS today, hop across to www.steelesports.com.au for a LIVE call of both games!

2 days ago

HALF TIME at Allianz Stadium, and the Bulldogs lead the Sea Eagles 16-6.

Follow all the action in...

3 days ago

KICK OFF in just a few minutes at Allianz Stadium in the clash between the Sea Eagles and Bulldogs.
...

3 days ago - 1 Likes

FULL TIME at Allianz Stadium, with the Roosters defeating the Cowboys 31-30. The North Queensland Co...

4 days ago - 5 Likes