Viewing entries tagged with 'Test match'

10 of the 13 starting players in the Kangaroos line-up and all 7 men in the backline are Queenslander's after ARL chairman Colin Love announced the side to take on New Zealand next Friday.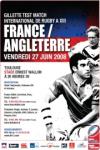 GILLETTE Fusion Test Match Review played out in Toulouse...

THE Australian team and New Zealand squad for Friday's Test match at Suncorp Stadium.
Latest News
Latest Tweets