Viewing entries tagged with 'nrl9s'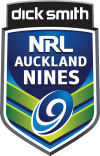 February 15th 2014 10:13am by
THE North Queensland have claimed the inaugural 2014 Dick Smith #NRL9s at Eden Park in Auckland! Check back on all the results from the weekend here.
Mick's Match Centre
Ladder
Team
P
W
D
L
F
A
Pts
No ladder available
Subscribe to our eNewsletter
Keep up to date with all the happenings in the world of Rugby League with our free eNewsletter!
Facebook
#NRLDraw | The 2015 Season kicks off in just over two months. Last Monday the NRL - National Rugby L...

4 hours ago - 8 Likes

#VBNSWCup | Earlier this week, the New South Wales Rugby League released the 2015 VB NSW Cup Draw, f...

2 days ago - 6 Likes

Junior match officials are subject to both verbal and physical abuse because NRL fans hold the belie...

4 days ago - 5 Likes

#NRLDRAW | The 2015 NRL - National Rugby League Season Draw was released yesterday. As we revealed o...

6 days ago - 2 Likes

#NRLDRAW | Here's what we know!

- Round 1 leaked (see attached post - but swap the Queensland games...

8 days ago - 22 Likes