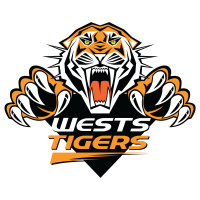 The stars of the future have been on show at ANZ Stadium, with the Wests Tigers scoring an emphatic 46-18 win over the Canterbury Bulldogs in front of 22,000 fans.
The game was started at a frantic pace with the Tigers going 100m in their opening set only for the Bulldogs to return fire with their own 80m set which lead to points for Krisnan Inu after a Bulldogs set piece.
From the opening two sets, it was obvious that this was going to be a day for attacking and the Tigers proved that with Blake Austin giving a barnstorming Bodene Thompson a try from close range.
The Tigers then raced downfield in the ensuing set from the kick off and after getting a repeat set Keith Lulia got the first of his foursome following a set play.
Ten minutes later, the Bulldogs were able to hit back when Trent Hodkinson showed everyone why he's an origin halfback with some magic skill to set up Tim Lafai to score in the corner.
The Bulldogs then looked like they were going to be the first team to take some control of the match when off the back of a penalty and a beautiful set piece Corey Thompson scored and following the conversion the Bulldogs were back in front.
Just like previous occasions the Tigers were able to hit back this time when Keith Lulia bagged his second try off the match off another well worked set piece, this time Mitchell Moses couldn't convert and the score remained at 18-16 until halftime.
The second half couldn't have got off to a worse start for the Bulldogs, when Mitch Brown dropped a Sam Kasiano offload, this gave the Tigers the perfect opportunity to start a second half blitz, which they obligingly took through Keith Lulia who grabbed his third.
From there, the Tigers were able to run roughshod over the Bulldogs defence through their young guns Luke Brooks, Mitchell Moses and Blake Austin who were bursting through a Bulldogs defensive line at every opportunity.
Keith Lulia provided the best try of the day when he was able to do everything to keep himself in the field of play and get the ball down despite the attention of the Bulldogs defence to get his fourth try of the match.
From there the Tigers were able to score at will with easy tries coming to Curtis Sironen, Luke Brooks, Aaron Woods & James Gavet, all of which were set up by some great skill from the Tigers young guns which left the Bulldogs guessing in defence.
There will be a nervous wait for the charge sheet for both sides with Josh Jackson on report for a trip, Trent Hodkinson for a dangerous throw & Blake Austin for a lazy high shot.
Next weekend, both sides return to ANZ Stadium, with the Tigers hosting the St George Illawarra Dragons meanwhile the Bulldogs are at home to the North Queensland Cowboys.
---
Match Details
Wests Tigers 46 Canterbury-Bankstown Bulldogs 18
Venue: ANZ Stadium
Crowd: 22225
Halftime Score: Wests Tigers 16 Canterbury-Bankstown Bulldogs 18

LeagueUnlimited.com Players of the Match:
3 points - Mitchell Moses
2 points - Blake Austin
1 point - Keith Lulia



WESTS TIGERS (46)
Tries: Bodene Thompson, Keith Lulia (4), Curtis Sironen, Luke Brooks, Aaron Woods, James Gavet
Conversions: Mitchell Moses (2/3), Blake Austin (0/2), Pat Richards (3/4)

CANTERBURY-BANKSTOWN BULLDOGS (18)
Tries: Krisnan Inu, Timoteo Lafai, Corey Thompson
Conversions: Trent Hodkinson (3/3)
---
LeagueUnlimited.com Live Commentary
Play underway at ANZ Stadium, Tigers with first possession
2: WHAT A START - Tigers go 100m in the opening set and Pat Richards goes in for the corner but ruled to have lost the ball in grounding it
3: TRY CANTERBURY-BANKSTOWN BULLDOGS
Scored by Krisnan Inu. Kick to come.
Too much speed and skill from the Bulldogs sees them go 80m upfield of the 20m tap & its Krisnan Inu who scores out in the corner
5: SUCCESSFUL CONVERSION CANTERBURY-BANKSTOWN BULLDOGS
Conversion attempt by Trent Hodkinson successful.
Trent Hodkinson puts a perfect kick in and converts from out wide
5: Ok, so now the Tigers attack now after Mitch Brown loses the ball off the kick off & it goes dead
6: TRY WESTS TIGERS
Scored by Bodene Thompson. Kick to come.
Bodene Thompson runs straight off a Blake Austin double pump ball & gets the ball to the line
7: SUCCESSFUL CONVERSION WESTS TIGERS
Conversion attempt by Mitchell Moses successful.
Mitchell Moses has no problems converting it and levels up the scores
8: PENALTY TIGERS: Greg Eastwood penalised for making a second effort in the tackle
11: UNFORCED ERROR CANTERBURY-BANKSTOWN BULLDOGS
Mitch Brown makes an unforced error.
Mitch Brown loses the ball off a kick from Robbie Farah
11: VIDEO REFEREE: Going upstairs for a possible Keith Lulia TRY - Checking obstruction, Ben Cummins gives us the 'T'
11: TRY WESTS TIGERS
Scored by Keith Lulia. Kick to come.
Keith Lulia scores out in the corner after the Bulldogs fall to a beautifully worked set piece
12: SUCCESSFUL CONVERSION WESTS TIGERS
Conversion attempt by Mitchell Moses successful.
Mitchell Moses hits the conversion sweetly and extends the Tigers lead
14: Tigers try a blindslide play but passes go astray and Bulldogs get it back
15: UNFORCED ERROR CANTERBURY-BANKSTOWN BULLDOGS
Krisnan Inu makes an unforced error.
Bulldogs try to attack to the right but the pressure from Keith Lulia forces Krisnan Inu into a knock on
18: TRY CANTERBURY-BANKSTOWN BULLDOGS
Scored by Timoteo Lafai. Kick to come.
A beautiful little kick from Trent Hodkinson catches out the Tigers defence and then some soft hands from Hodkinson & Jackson sees Tim Lafai cross out wide
18: SUCCESSFUL CONVERSION CANTERBURY-BANKSTOWN BULLDOGS
Conversion attempt by Trent Hodkinson successful.
Trent Hodkinson has no problems from outwide once again to level the scores
20: PENALTY BULLDOGS: Bulldogs get over halfway but get a penalty too help them further up-field with the Tigers inside the 10
20: TRY CANTERBURY-BANKSTOWN BULLDOGS
Scored by Corey Thompson. Kick to come.
Another beautiful set piece this time from the Bulldogs catches the Tigers defence napping and Corey Thompson scores in the corner
22: SUCCESSFUL CONVERSION CANTERBURY-BANKSTOWN BULLDOGS
Conversion attempt by Trent Hodkinson successful.
Another sweetly timed conversion from Trent Hodkinson & it goes over from the sideline
24: First real mistake in attack by either side with Hodkinson putting the kick too deep
25: PENALTY TIGERS: Trent Hodkinson penalised for a dangerous tackle
26: TRY WESTS TIGERS
Scored by Keith Lulia. Kick to come.
Another poor defensive read & some good attack from the Bulldogs and Keith Lulia still gets his second
27: UNSUCCESSFUL CONVERSION WESTS TIGERS
Conversion attempt by Mitchell Moses unsuccessful.
Mitchell Moses misses the conversion from out wide but does to look to be suffering a groin injury
28: PENALTY TIGERS: Josh Jackson penalised for a trip on a flying Luke Brooks after a chip
30: Luke Brooks puts a kick in back towards the ingoal and gets it to hit the upright but Bulldogs are awake to the kick
35: UNFORCED ERROR CANTERBURY-BANKSTOWN BULLDOGS
Corey Thompson makes an unforced error.
After having to defend their own end, the Bulldogs go upfield but a strange kick from Hodkinson is knocked on by Corey Thompson
40: Half Time at ANZ Stadium - its the Bulldogs leading 18-16
40: Bulldogs back on the field for the second half
41: UNFORCED ERROR CANTERBURY-BANKSTOWN BULLDOGS
Mitch Brown makes an unforced error.
Worse possible start for the Dogs, Mitch Brown drops an offload from Sam Kasiano
41: TRY WESTS TIGERS
Scored by Keith Lulia. Kick to come.
Keith Lulia scores his THIRD try of the afternoon with some beautiful work in attack from the defenders
44: UNSUCCESSFUL CONVERSION WESTS TIGERS
Conversion attempt by Blake Austin unsuccessful.
Blake Austin pushes the conversion wide, so no change to the scores
45: PENALTY TIGERS: Bulldogs too slow leaving the tackle, thats the fifth penalty for the Tigers
46: Anti-climatic end to the set with Blake Austin going himself on the last but Bulldogs awake to it
48: PENALTY BULLDOGS: Blake Austin mistimes a tap-on for the ball & collects the Bulldogs player high
48: PENALTY TIGERS: Bulldogs penalised for being offside
50: TRY WESTS TIGERS
Scored by Curtis Sironen. Kick to come.
Tigers finding alot of space in the Bulldogs defence and a show and kick by Mitchell Moses sees Curtis Sironen get through and score
51: UNSUCCESSFUL CONVERSION WESTS TIGERS
Conversion attempt by Blake Austin unsuccessful.
Blake Austin puts way too much hook on a relatively simple kick and scores stay level
52: PENALTY TIGERS: Another penalty for a dangerous tackle this afternoon
54: TRY WESTS TIGERS
Scored by Keith Lulia. Kick to come.
Keith Lulia has FOUR tries this afternoon, some brilliant lead-up work finds space for him with an extra amazing finish from Lulia
54: UNSUCCESSFUL CONVERSION WESTS TIGERS
Conversion attempt by Pat Richards unsuccessful.
Pat Richards misses the conversion from out wide
58: UNFORCED ERROR WESTS TIGERS
Mitchell Moses makes an unforced error.
Mitchell Moses can't do more than get fingertips to the ball and knocks it on deep inside the Bulldogs half
60: TRY WESTS TIGERS
Scored by Luke Brooks. Kick to come.
Some brilliant combining from Mitchell Moses and Luke Brooks sees the Tigers get another try
60: SUCCESSFUL CONVERSION WESTS TIGERS
Conversion attempt by Pat Richards successful.
Pat Richards converts from in front
63: Back to back penalties against the Tigers both for strips
65: Hodkinson decides to go across field with the kick but Pat Richards takes it in goal comfortably
66: Tigers go across field with the kick in attack but Keith Lulia in batting the ball back has his foot on the line so its out on the full
70: UNFORCED ERROR CANTERBURY-BANKSTOWN BULLDOGS
Josh Jackson makes an unforced error.
Josh Jackson throws the ball between his legs whilst trying to play it
72: TRY WESTS TIGERS
Scored by Aaron Woods. Kick to come.
Aaron Woods uses his size and strength to force his way over the tryline & score for the Tigers
73: SUCCESSFUL CONVERSION WESTS TIGERS
Conversion attempt by Pat Richards successful.
Pat Richards has no problems in converting the goal from close range
74: UNFORCED ERROR WESTS TIGERS
Martin Taupau makes an unforced error.
Martin Tapau ruled to have lost the ball in trying to catch the short kickoff
75: VIDEO REFEREE: Josh Jackson crosses the line for a TRY - Checking marker obstruction, Chris James says TRY
74: NO TRY the ruling - Michael Ennis ruled to have held the marker
76: Bulldogs lose the ball trying some desperate play late in this one
78: Blake Austin tries a chip and chase and Trent Hodkinson takes it before being forced dead by Blake Austin
80: TRY WESTS TIGERS
Scored by James Gavet. Kick to come.
Thats the icing on the cake for the Tigers - Blake Austin shows his class with a deft kick and a hungry James Gavet scores a try
80: SUCCESSFUL CONVERSION WESTS TIGERS
Conversion attempt by Pat Richards successful.
Pat Richards converts and just adds an extra 2 pts to the board
---