Saturday 29th March 2014 (AEDT).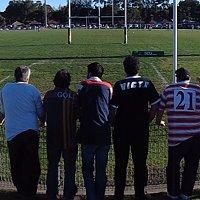 The Team is back for another big show looking at all things Rugby League Saturday Morning from 11.30am Live from Henson Park. (AEST)
Plenty of Footy to talk about, as we will review the two matches from last night. The Bulldogs gutsy win against the Roosters and the Eels make it two in a row against the Broncos.
We'll be joined by Stu Mccarthy from the Newtown Jets, who will talk to us about how the Jets are lining up for this year and we'll have a chat with him about what setting up for game day is like for a NSW Cup side.
We'll have a chat about Jordan Mclean and also if we should do anything about the three man tackle issue, and if so what?
Plus we'll preview all the action of Round 5 of the NRL.
If you want to listen to our broadcast this week Live from Henson Park head to - http://www.steelesports.com.au
Latest News
Latest Tweets