Results and Scorers:
RESULTS: 2017 Sydney Shield Round 21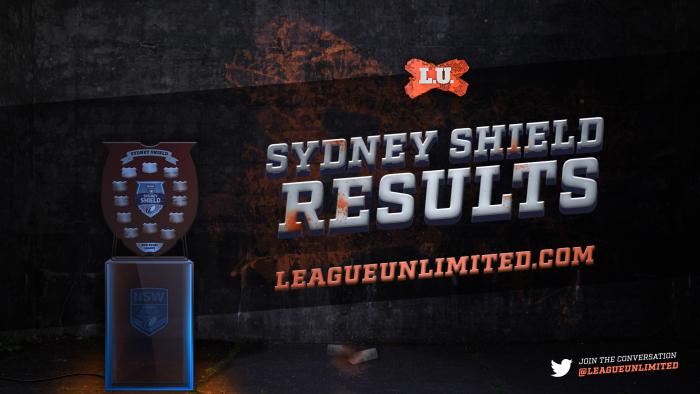 All the results and scorers from the 21st round of the NSWRL Sydney Shield.
All listed times are AEST (NSW/QLD/VIC/ACT).
---
RELATED: See the full list of 2017 Sydney Shield Draw and Results.
---
St Marys Saints 36 Guildford Owls 12
Venue: St Marys Stadium
Date: Saturday 29 July 2017 at 2:00pm
St Marys Saints (36)
Tries: Nicholas Betar, Thomson Tuigamala, Fuimanu Enese, Alan Eisenhuth, Adrian Davis, Shannon Harris
Goals: Adrian Davis 5, Aiden Glanville 1
Guildford Owls (12)
Tries: Takai Moeakiola, Tyrone Shelley
Goals: Todd Sapienza 2
---
Wentworthville United 34 Mounties 32
Venue: Ringrose Park
Date: Sunday 30 July 2017 at 11:15am
Wentworthville United (34)
Tries: Ayden Carling, Brendon Newton, Tom Field, Braydon Walsh, Nicki Soloa Toomata, Inoke Vunipola
Goals: Brendon Newton 5
Mounties (32)
Tries: Dylan Izzard, Ilija Cotric, Vince Ripepi, Maile Li, Shannon Chapman, Ben Dooley
Goals: Jye Ellul 4
---
Blacktown Workers Sea Eagles 32 Moorebank Rams 50
Venue: HE Laybutt Sporting Complex
Date: Sunday 30 July 2017 at 1:00pm
Blacktown Workers Sea Eagles (32)
Tries: B Maarbani, D Nurthen, C Anjoul, C Davis, B Benjamin, P Scanlan
Goals: L Chalkley 4

Moorebank Rams (50)
Tries: M Stanley 3, K Hayman 2, O Finau, R Taylor, S Fuataga, L Mafi
Goals: K Hayman 4, C Matthews 3
---
East Campbelltown Eagles 40 Western Suburbs Magpies 26
Venue: Waminda Oval
Date: Sunday 30 July 2017 at 2:30pm
East Campbelltown Eagles (40)
Tries: F Tevaga 2, F Toutai 2, G Lahey, B Baker, J Da Silva
Goals: B Baker 5, C Standing 1
Western Suburbs Magpies (26)
Tries: M Farrell 3, J Mose, S Aiga
Goals: K Coakes 3
---
Asquith Magpies 62 Hills District Bulls 12
Venue: Storey Park
Date: Sunday 30 July 2017 at 3:00pm
Asquith Magpies (62)
Tries: Alex Nicholls-O'Neill 4, Jake Pickering 4, Shae Jarvis 3
Goals: Vinnie Ngaro 4, Shae Jarvis 3, I McMoore 1, P Crosby 1
Hills District Bulls (12)
Tries: L Piper 2
Goals: J Horo 2
---
Belrose Eagles 16 Cabramatta Two Blues 28
Venue: Lionel Watts Reserve
Date: Sunday 30 July 2017 at 3:00pm
Belrose Eagles (16)
Tries: J Morrison 2, M Tweedie
Goals: S Grieve 1
Cabramatta Two Blues (28)
Tries: D Dewildt, J Belgrove, J Knox, N Kapinga, S Kaivelata
Goals: B Cox 4
---
RELATED: Click here to view the current Sydney Shield ladder.