Results and Scorers:
RESULTS: 2017 Ron Massey Cup Round 22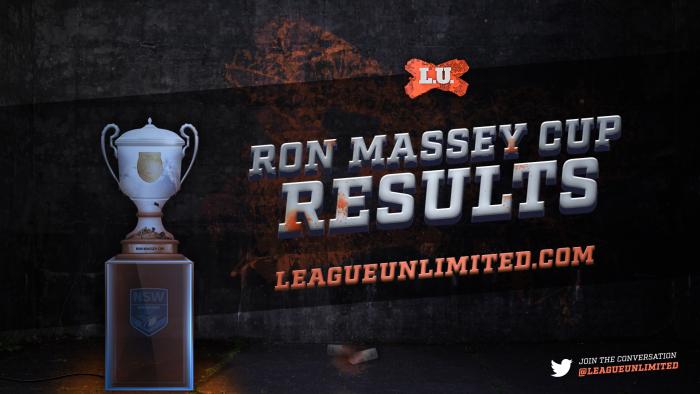 All the results and scorers from the 22nd round of the NSWRL Ron Massey Cup.
All listed times are AEST (NSW/QLD/VIC/ACT).
---
RELATED: See the full list of 2017 Ron Massey Cup Draw and Results.
---
Mounties 24 Auburn Warriors 16
Venue: Aubrey Keech Reserve
Date: Saturday 5 August 2017 at 3:00pm
Mounties (24)
Tries: Henry Raiwalui 2, Yileen Gordon, Maurice Kennedy, Jarrod Brackenhofer
Goals: Maurice Kennedy 2
Auburn Warriors (16)
Tries: David Minute, Josh Bergamin
Goals: Manaia Rudolph 4
---
Cabramatta Two Blues 20 Wentworthville Magpies 34
Venue: New Era Stadium
Date: Saturday 5 August 2017 at 5:00pm
Cabramatta Two Blues (20)
Tries: Isaac Montgomery 2, Brent Anderson, Jay Belgrove
Goals: Don Thompson 2
Wentworthville Magpies (34)
Tries: Danny Barakat 2, Zac Nicholls, Kurt De Luis, Jordan Martin, Scott Schulte
Goals: Jake Rafferty-Butfield 5
---
Blacktown Workers Sea Eagles 24 St Marys Saints 58
Venue: HE Laybutt Sporting Complex
Date: Sunday 6 August 2017 at 3:00pm
Blacktown Workers Sea Eagles (24)
Tries: Shane Kiel, Shaun Fitzgerald, Kelepi Manu, Ben Fritz, Pattyloma Auapaau
Goals: Kelepi Manu 2
St Marys Saints (58)
Tries: Thomas Romer 2, Matt Place 2, Mason Cerruto 2, Geoff Daniela, Cowen Epere, Aaron Pene, Ratu Tuisese
Goals: Matt Place 9
---
Hills District Bulls 21 Concord-Burwood Glebe Wolves 12
Venue: Crestwood Oval
Date: Sunday 6 August 2017 at 3:00pm
Hills District Bulls (21)
Tries: David Baumann 2, Chad O'Donnell
Goals: Chad O'Donnell 4
Field Goals: Jayden Horo 1
Concord-Burwood Glebe Wolves (12)
Tries: Kurt Aldridge 2
Goals: Kurt Aldridge 2
---
Guildford Owls 46 Western Suburbs Magpies 16
Venue: McCredie Park
Date: Sunday 6 August 2017 at 3:00pm
Guildford Owls (46)
Tries: Nick Okladnikov 3, Lazarus Brown 2, Nathan Masima, Josh Camroux, Eden Syme
Goals: Josh Camroux 7
Western Suburbs Magpies (16)
Tries: Pio Sokobalavu, Blake Goodman, Tala Mapesone
Goals: Vieru Mapesone 2
---
RELATED: Click here to view the current Ron Massey Cup ladder.