Results and Scorers:
RESULTS: 2017 Ron Massey Cup Round 23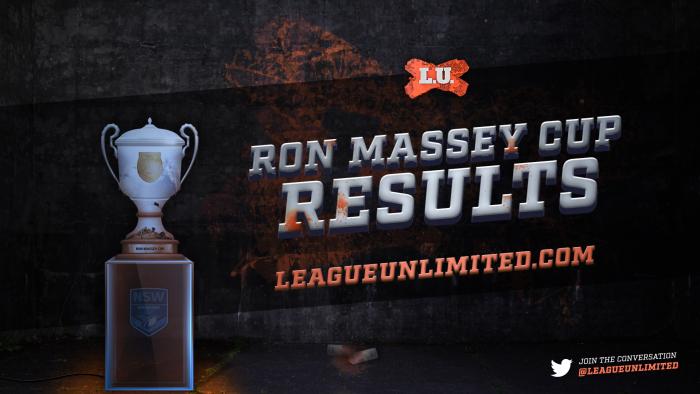 All the results and scorers from the 23rd round of the NSWRL Ron Massey Cup.
All listed times are AEST (NSW/QLD/VIC/ACT).
---
RELATED: See the full list of 2017 Ron Massey Cup Draw and Results.
---
Mounties 18 Hills District Bulls 10
Venue: Aubrey Keech Reserve
Date: Saturday 12 August 2017 at 1:00pm
Mounties (18)
Tries: Leva Li, Henry Raiwalui, Chris Taripo
Goals: Maurice Kennedy 3
Hills District Bulls (10)
Tries: Sean Walpole, Chad O'Donnell
Goals: Chad O'Donnell 1
---
St Marys Saints 62 Western Suburbs Magpies 24
Venue: St Marys Stadium
Date: Saturday 12 August 2017 at 4:00pm
St Marys Saints (62)
Tries: Joe Vaegaau 3, James Hill 3, Peter Nay 2, Veta Lilomaiava, John Tuliatu, Dean Zammi
Goals: Matt Place 9
Western Suburbs Magpies (24)
Tries: Josh Davis, Blake Goodman, Tala Mapesone, Kilifi Tia Kilifi, Kelsey Coakes
Goals: Vieru Mapesone 2
---
Concord-Burwood Glebe Wolves 50 Blacktown Workers Sea Eagles 26
Venue: Goddard Park
Date: Sunday 13 August 2017 at 2:00pm
Concord-Burwood Glebe Wolves (50)
Tries: Kem Seru 4, Sam Latu 3, Patrice Siolo, Harrison O'Toole, Latrell Schaumkel
Goals: Kurt Aldridge 5
Blacktown Workers Sea Eagles (26)
Tries: Ben Fritz, Kelepi Manu, George Tsikrikas, Mario El-Boustani, Pattyloma Aupaau
Goals: Amanaki Manu 3
---
Guildford Owls 34 Wentworthville Magpies 18
Venue: McCredie Park
Date: Sunday 13 August 2017 at 3:00pm
Guildford Owls (34)
Tries: Leslie Ngaluafe 3, Josh Camroux, Nathan Masima, Jake Carlaw
Goals: Josh Camroux 5
Wentworthville Magpies (18)
Tries: Jack Miller 2, Zac Nicholls
Goals: Jake Rafferty-Butfield 3
---
Auburn Warriors and Cabramatta Two Blues had a bye this round.
---
RELATED: Click here to view the current Ron Massey Cup ladder.