Results and Scorers:
RESULTS: 2018 UNE Harold Matthews Cup Round 3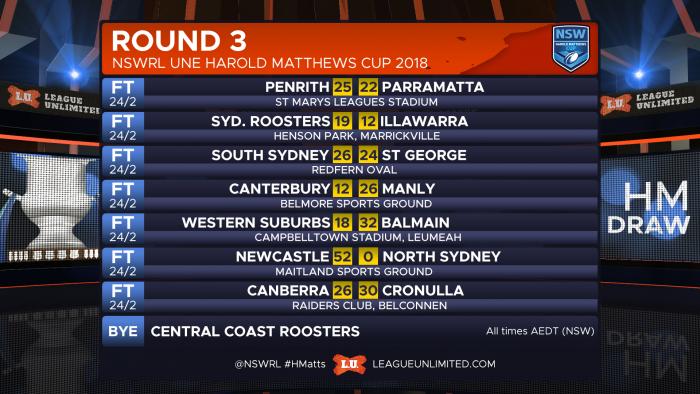 All the results and scorers from the third round of the NSWRL Harold Matthews Cup Under 16 junior reps competition.
All listed times are AEDT (NSW/VIC/ACT).
---
RELATED: See the full list of 2018 UNE Harold Matthews Cup Draw and Results.
---
Penrith Panthers 25 Parramatta Eels 22
Venue: St Marys Stadium
Date: Saturday 24 February 2018 at 9:40am
Penrith Panthers (25)
Tries: Sunia Turuva, Maxwell Pritchard 2, Ashley Cosgrove
Goals: Donovan Boney 4
Field Goals: Donovan Boney 1
Parramatta Eels (22)
Tries: Matt Komolafe 2, Peter Taateo, Alfred Curuenavuli
Goals: Sam Loizou 3
---
Sydney Roosters 19 Illawarra Steelers 12
Venue: Henson Park
Date: Saturday 24 February 2018 at 10:00am
Sydney Roosters (19)
Tries: Liam Tonpi, Vince Raco, Jordan Swann
Goals: Ronald Volkman 3
Field Goals: Ronald Volkman 1
Illawarra Steelers (12)
Tries: Talatau Amone, Tyrone Roberts
Goals: Talatau Amone 1, Tyrone Roberts 1
---
South Sydney Rabbitohs 26 St George Dragons 24
Venue: Redfern Oval
Date: Saturday 24 February 2018 at 10:15am
South Sydney Rabbitohs (26)
Tries: Joe Suaalii 2, Livai Tikoipau, Ned Hicks, Keidan Donovan-Phillips
Goals: Dion Teaupa 3
St George Dragons (24)
Tries: Ouday Zreika 2, Caleb Navale, Nikau Wrathall
Goals: Nikau Wrathall 1, Mason Taufa 3
---
Canterbury-Bankstown Bulldogs 12 Manly-Warringah Sea Eagles 26
Venue: Belmore Sports Ground
Date: Saturday 24 February 2018 at 10:30am
Canterbury-Bankstown Bulldogs (12)
Tries: Compton Fuatimau, Danny Ghantous
Goals: Khaled Rajab 1, Adam Lababidi 1
Manly-Warringah Sea Eagles (26)
Tries: Tolutau Koula 2, Uluaki Tuipulotu 2, Kaeo Weekes
Goals: Teddy Wilson 3
---
Western Suburbs Magpies 18 Balmain Tigers 32
Venue: Campbelltown Stadium
Date: Saturday 24 February 2018 at 10:45am
Western Suburbs Magpies (18)
Tries: Cameron Lawrence, Henry Alesi, Faleloia Alesana
Goals: Justin Matamua 3
Balmain Tigers (32)
Tries: Cougar Wheeler, Emery Jolliffe, Zane Camroux, Thomas Kwok, Livai Saukuru, Jaycob Anjoul
Goals: Zane Camroux 4
---
Newcastle Knights 52 North Sydney Bears 0
Venue: Maitland Regional Sportsground
Date: Saturday 24 February 2018 at 12:00pm
Newcastle Knights (52)
Tries: Kodi Crowther 4, Sam Robinson, Noah Nailagoliva, Jonah Pezet, Logan Radzievic, Thomas Cant, Tallis Duncan
Goals: Logan Radzievic 6
North Sydney Bears (0)

---
Canberra Raiders 26 Cronulla-Sutherland Sharks 30
Venue: Raiders Club Belconnen
Date: Saturday 24 February 2018 at 12:45pm
Canberra Raiders (26)
Tries: Clay Webb 2, Junior Tupou 2, Paul Grove
Goals: Junior Tupou 3
Cronulla-Sutherland Sharks (30)
Tries: Blake Hosking, Kitione Kautoga, Kade Dykes, Dane Courtney, Sam Stonestreet
Goals: Jordan Samrani 5
---
Central Coast Roosters had a bye this round.
---
RELATED: Click here to view the current UNE Harold Matthews Cup ladder.