Results and Scorers:
RESULTS: 2018 UNE SG Ball Cup Round 6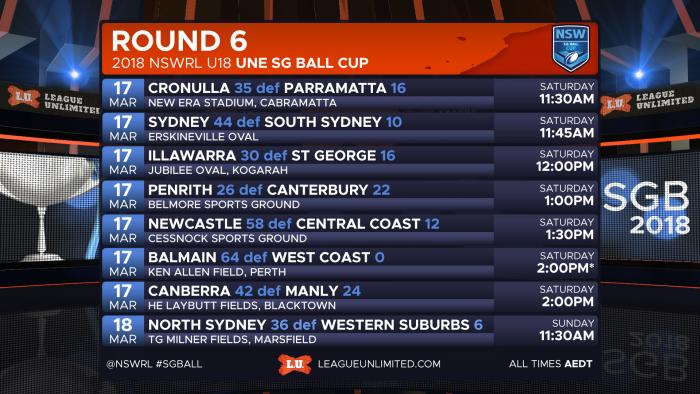 All the results and scorers from the sixth round of the NSWRL U18 boys junior reps - the UNE SG Ball Cup.
All listed times are AEDT (NSW/VIC/ACT).
---
RELATED: See the full list of 2018 UNE SG Ball Cup Draw and Results.
---
Parramatta Eels 16 Cronulla-Sutherland Sharks 35
Venue: New Era Stadium
Date: Saturday 17 March 2018 at 11:30am
Parramatta Eels (16)
Tries: Matt Doorey 3
Goals: Tyler Field 2
Cronulla-Sutherland Sharks (35)
Tries: Angus Ernst, Damon Smith, Kyle Pickering, Jonaiah Lualua, Isaac Longmuir, Thomas Demeio
Goals: Kai Broadhurst 5
Field Goals: Angus Ernst 1
---
South Sydney Rabbitohs 10 Sydney Roosters 44
Venue: Erskineville Oval
Date: Saturday 17 March 2018 at 11:45am
South Sydney Rabbitohs (10)
Tries: Dalton Armstrong, Aidan Manowski
Goals: Kaylib Savage 1
Sydney Roosters (44)
Tries: Egan Butcher, Craig McKenzie, Kobe Rugless, Lathan Hutchinson-Walters, Luca Moretti, Asu Kepaoa 2, Dejzha Pene
Goals: Harry Wilson 6
---
St George Dragons 16 Illawarra Steelers 30
Venue: Jubilee Oval
Date: Saturday 17 March 2018 at 12:00pm
St George Dragons (16)
Tries: Simeone Taateo, James Coyne, Jason Saab
Goals: Cody Ramsey 2
Illawarra Steelers (30)
Tries: Aaron Schoupp 2, Blake Dowel, Mathew Feagai 2, Sam Hooper
Goals: Jayden Sullivan 1, Sam Hooper 2
---
Canterbury-Bankstown Bulldogs 22 Penrith Panthers 26
Venue: Belmore Sports Ground
Date: Saturday 17 March 2018 at 1:00pm
Canterbury-Bankstown Bulldogs (22)
Tries: Kurt Picken, Jake Averillo, Tyrone Harding, Iverson Fuatimau
Goals: Jake Averillo 3
Penrith Panthers (26)
Tries: Logan Cohen, Shawn Blore, Charlie Staines, Marc Zaurinni, Matt Burton
Goals: Stephen Crichton 3
---
Newcastle Knights 58 Central Coast Roosters 12
Venue: Cessnock Sports Ground
Date: Saturday 17 March 2018 at 1:30pm
Newcastle Knights (58)
Tries: Starford Toa 2, Bradman Best 3, Jock Madden, Liam Wilkinson, Cooper Jenkins, Mitch Black, Timanu Alexander
Goals: Jock Madden 9
Central Coast Roosters (12)
Tries: Jake O'Meley, Harry Packham, Tallis Angianga
---
West Coast Pirates 0 Balmain Tigers 64
Venue: Ken Allen Field
Date: Saturday 17 March 2018 at 2:00pm
West Coast Pirates (0)

Balmain Tigers (64)
Tries: Reg Alofipo 2, Uellington Seve 3, Josh Rizk 2, Ethan Mokoia 2, Tallis Smith, Sam Karwhin, Kurtis Morrin
Goals: Tane Edmed 5, Sam Karwhin 3
---
Manly-Warringah Sea Eagles 24 Canberra Raiders 42
Venue: HE Laybutt Sporting Complex
Date: Saturday 17 March 2018 at 2:00pm
Manly-Warringah Sea Eagles (24)
Tries: Jamie Lawler, Josh Fepuleai, Alec Tuitavake, Max Lehmann
Goals: Roland Podesta 4
Canberra Raiders (42)
Tries: Jordan Martin 2, Kristian Jensen 2, Jordan Little, James Atonio, Maleke Morris
Goals: Regan McClennan 7
---
North Sydney Bears 36 Western Suburbs Magpies 6
Venue: TG Millner Field
Date: Sunday 18 March 2018 at 11:30am
North Sydney Bears (36)
Tries: Trent Kurnoth, Darcy Hardman, Michael Brown, Zac Stracey, Lennox Whittaker, Leonard Vai
Goals: Sam Stratis 6
Western Suburbs Magpies (6)
Tries: Harrison Meredith
Goals: Cameron Oitmann 1
---
RELATED: Click here to view the current UNE SG Ball Cup ladder.