Results and Scorers:
RESULTS: 2018 Mal Meninga Cup Round 2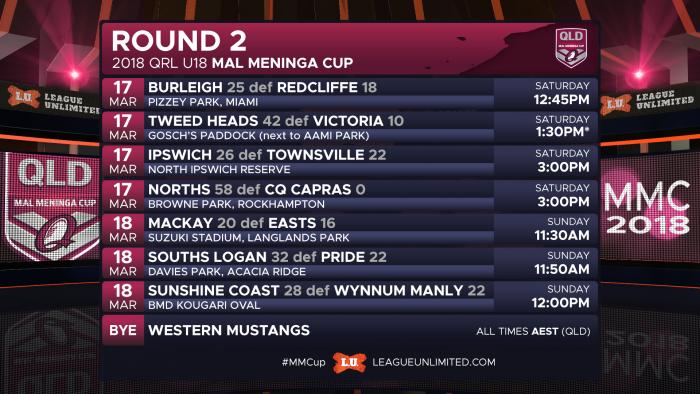 All the results and scorers from the second round of the QRL's Under 18 boys junior rep competition - the Mal Meninga Cup.
All listed times are AEST (QLD).
---
RELATED: See the full list of 2018 Mal Meninga Cup Draw and Results.
---
Burleigh Bears 25 Redcliffe Dolphins 18
Venue: Pizzey Park
Date: Saturday 17 March 2018 at 12:45pm
Burleigh Bears (25)
Tries: Zane Harris 2, Ronin Rio, Dan Shannon
Goals: Zane Harris 4
Field Goals: Zane Harris 1
Redcliffe Dolphins (18)
Tries: Jacob Conlan, Logan Cox, Tahj Wood
Goals: Dylan Briggs 3
---
Victoria Thunderbolts 10 Tweed Heads Seagulls 42
Venue: Goschs Paddock
Date: Saturday 17 March 2018 at 2:30pm
Victoria Thunderbolts (10)
Tries: Haele Finau, Mali Lepou
Goals: Tangatta Teroi
Tweed Heads Seagulls (42)
Tries: Blake Campbell 2, Thomas Dearden, Noah Gafa, Cole Geyer, Toby Sexton, Codey McLaughlin
Goals: Toby Sexton 7
---
CQ Capras 0 Norths Devils 58
Venue: Browne Park
Date: Saturday 17 March 2018 at 3:00pm
CQ Capras (0)

Norths Devils (58)
Tries: Ethan Bullemor 2, Jack Paterson 2, Fruean Easthope, Ethan Le Blanc, Lachlan Tenison-Woods, Daejarn Asi, Michael McGuire, Tristan Powell, Zakaria McGuire
Goals: Cory Paix 7
---
Ipswich Jets 26 Townsville Blackhawks 22
Venue: North Ipswich Reserve
Date: Saturday 17 March 2018 at 3:00pm
Ipswich Jets (26)
Tries: Thomas Casey, Quentin Vaaua, Josh Henderson, Jack Martin, Lochlan Turnbull
Goals: Lochlan Turnbull 2, Ty-James Marshall 1
Townsville Blackhawks (22)
Tries: Curtis Dempsey, Tom Gilbert, Ty Everett, Quinlan Kelly
Goals: Adam Cook 2, Curtis Dempsey 1
---
Easts Tigers 16 Mackay Cutters 20
Venue: Suzuki Stadium, Langlands Park
Date: Sunday 18 March 2018 at 11:30am
Easts Tigers (16)
Tries: Sebastian Winters-Chang, Exodus Semau, Josh Radford
Goals: Hayden Ryan
Mackay Cutters (20)
Tries: Mitchell O'Connell, Tom Irelandes, Blake Paskins, Garrett Smith
Goals: Michael Bell 2
---
Souths Logan Magpies 32 Northern Pride 22
Venue: Davies Park
Date: Sunday 18 March 2018 at 11:50am
Souths Logan Magpies (32)
Tries: Leevai Sutton 3, Paul Karaitiana, Ioane Seiuli, Vinncent Takataka
Goals: Ezra Coulston 4
Northern Pride (22)
Tries: Tyrin Ona-Murphy, Bailey Biondi-Odo, Nathan Phillips, Usaia Fonongaloa
Goals: Bailey Biondi-Odo 3
---
Wynnum Manly Seagulls 22 Sunshine Coast Falcons 28
Venue: BMD Kougari Oval
Date: Sunday 18 March 2018 at 12:00pm
Wynnum Manly Seagulls (22)
Tries: Keanu Ratumaitavuki-Aiolupo, Tyrees Wilson 3
Goals: Joel Norris 1, Braden Whittaker 2
Sunshine Coast Falcons (28)
Tries: Jai Smoothy 2, Dylan Carolan, Kane Jackson, Nick Ellems, Aaron Nelson
Goals: Joseph Lowe 2
---
Western Mustangs had a bye this round.
---
RELATED: Click here to view the current Mal Meninga Cup ladder.