Results and Scorers:
RESULTS: 2018 UNE SG Ball Cup Round 7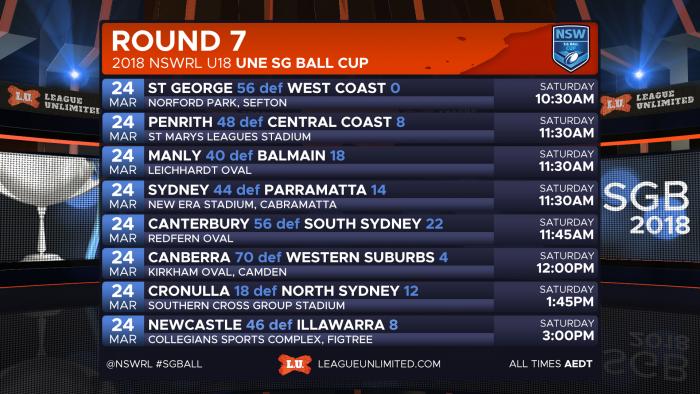 All the results and scorers from the seventh round of the NSWRL SG Ball Cup.
All listed times are AEDT (NSW/VIC/ACT).
---
RELATED: See the full list of 2018 UNE SG Ball Cup Draw and Results.
---
St George Dragons 56 West Coast Pirates 0
Venue: Norford Park
Date: Saturday 24 March 2018 at 10:30am
St George Dragons (56)
Tries: Ethan Hicks 2, Cody Ramsey 2, James Coyne, Harris Georgopolous, Simeone Taateo, Volkan Er, Spiro Psiroukis, Daniel Payne
Goals: Cody Ramsey 8

West Coast Pirates (0)
---
Penrith Panthers 48 Central Coast Roosters 8
Venue: St Marys Stadium
Date: Saturday 24 March 2018 at 11:30am
Penrith Panthers (48)
Tries: Zach Cini 2, Zhivargo Fai 2, Zac Duclos, Charlie Staines 2, Maurice Trindall, Stephen Crichton
Goals: Matt Burton 4, Stephen Crichton 2
Central Coast Roosters (8)
Tries: Tallis Angianga, Toby Elliott
---
Balmain Tigers 18 Manly-Warringah Sea Eagles 40
Venue: Leichhardt Oval
Date: Saturday 24 March 2018 at 11:30am
Balmain Tigers (18)
Tries: Josh Rizk, Daniel Sykes, Jason Smyth
Goals: Lachlan Ilias 2, Tane Edmed 1
Manly-Warringah Sea Eagles (40)
Tries: Josh Schuster 3, Tyran Ott 2, Ben Trbojevic, Dane Oostendorp-Power
Goals: Roland Podesta 6
---
Parramatta Eels 14 Sydney Roosters 44
Venue: New Era Stadium
Date: Saturday 24 March 2018 at 11:30am
Parramatta Eels (14)
Tries: Brent Barnes, Tyler Tuigamala, Sam Hughes
Goals: Mat Smith 1
Sydney Roosters (44)
Tries: Egan Butcher 2, Geordie Brand 2, McKenzie Baker, Anthony Pele 2, Asu Kepaoa
Goals: Harry Wilson 6
---
South Sydney Rabbitohs 22 Canterbury-Bankstown Bulldogs 56
Venue: Redfern Oval
Date: Saturday 24 March 2018 at 11:45am
South Sydney Rabbitohs (22)
Tries: Logan Aldridge, Akositaine Matakaiongo, Ratu Vesikula, Kobe Rodger
Goals: Peter Mamouzelos 3
Canterbury-Bankstown Bulldogs (56)
Tries: Jake Averllio 2, Logen Dillon 3, Kolinio Saukuru, Chris Patolo, Tyrone Harding, Ryan Gray, Jackson Topine
Goals: Jake Averillo 8
---
Western Suburbs Magpies 4 Canberra Raiders 70
Venue: Kirkham Oval
Date: Saturday 24 March 2018 at 12:00pm
Western Suburbs Magpies (4)
Tries: Piliaau Togamaga
Canberra Raiders (70)
Tries: Harley Smith-Shields 3. Brody Tracey 2, Caleb Sinn 2, Kristian Jensen, Ben Nanesa, Kalani Anitelea-Hand, Kali Taiseni, Jordan Martin
Goals: Regan McClennan 11
---
Cronulla-Sutherland Sharks 18 North Sydney Bears 12
Venue: Southern Cross Group Stadium
Date: Saturday 24 March 2018 at 1:45pm
Cronulla-Sutherland Sharks (18)
Tries: Eliah Veikoso, Vito Tevaga, Angus Ernst, Declan Casey
Goals: Kai Broadhurst 1
North Sydney Bears (12)
Tries: Tyrese Walker 2
Goals: Sam Stratis 2
---
Illawarra Steelers 8 Newcastle Knights 46
Venue: Collegians Sports Complex
Date: Saturday 24 March 2018 at 3:00pm
Illawarra Steelers (8)
Tries: Kane Ball, Max Feagai
Newcastle Knights (46)
Tries: Timanu Alexander 2, Jock Madden 3, Bradman Best, Nathaneal Sasagi, Campbell Sheppard
Goals: Jock Madden 7
---
RELATED: Click here to view the current UNE SG Ball Cup ladder.