Results and Scorers:
RESULTS: 2018 Mal Meninga Cup Round 3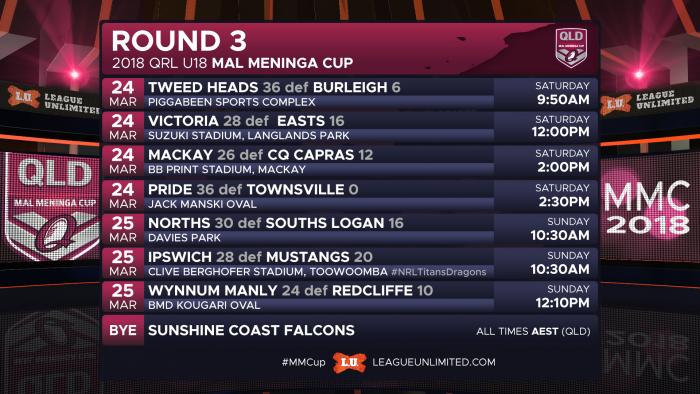 All the results and scorers from the third round of the QRL Under 18 Mal Meninga Cup.
All listed times are AEST (QLD).
---
RELATED: See the full list of 2018 Mal Meninga Cup Draw and Results.
---
Tweed Heads Seagulls 36 Burleigh Bears 6
Venue: Piggabeen Sports
Date: Saturday 24 March 2018 at 9:50am
Tweed Heads Seagulls (36)
Tries: Carsil Vaikai, Thomas Dearden, Indiha Saotui-Huta, Gorber Kuwot Chapari, David Butler, Juwan Compain
Goals: Toby Sexton 6
Burleigh Bears (6)
Tries: Alofiana Khan-Pereira
Goals: Jayden Campbell 1
---
Easts Tigers 16 Victoria Thunderbolts 28
Venue: Suzuki Stadium, Langlands Park
Date: Saturday 24 March 2018 at 12:00pm
Easts Tigers (16)
Tries: Ben Bucknell, Sebastian Winters-Chang, Josh Radford
Goals: Hayden Ryan 2
Victoria Thunderbolts (28)
Tries: Brandon Saene 3, Dean Ieremia, RJ Roma, Haele Finau
Goals: Tangatta Teroi 2
---
Mackay Cutters 26 CQ Capras 12
Venue: BB Print Stadium Mackay
Date: Saturday 24 March 2018 at 2:00pm
Mackay Cutters (26)
Tries: Kahlani Mooney 3, Aidan Beard, Ethan Walsh, Michael Bell
Goals: Michael Bell 1
CQ Capras (12)
Tries: Jeremiah Naawi, Harrison McIndoe, Riley Comiskey

---
Townsville Blackhawks 0 Northern Pride 36
Venue: Jack Manski Oval
Date: Saturday 24 March 2018 at 2:30pm
Townsville Blackhawks (0)
Northern Pride (36)
Tries: Hamiso Tabuai-Fidow 3, Bailey Biondi-Odo, William Messa, Myron Ahwang
Goals: Bailey Biondi-Odo 6
---
Souths Logan Magpies 16 Norths Devils 30
Venue: Davies Park
Date: Sunday 25 March 2018 at 10:30am
Souths Logan Magpies (16)
Tries: Cruise Ten, Iaone Seiuli, Ezra Coulston
Goals: Ezra Coulston 2

Norths Devils (30)
Tries: Fruean Easthope, Cory Paix, Jack Paterson, Tristan Powell, Ethan Le Blanc, Lachlan Lewis
Goals: Cory Paix 3
---
Western Mustangs 20 Ipswich Jets 28
Venue: Clive Berghofer Stadium
Date: Sunday 25 March 2018 at 10:30am
Western Mustangs (20)
Tries: Kyle Petersen, Chris Chalmers, Benji Neliman, Richard Murray
Goals: Richard Murray 2
Ipswich Jets (28)
Tries: Thomas Casey 2, Fa'ata'ape Timai, Brad Zampech, Nick Niu
Goals: Lochlan Turnbull 4
---
Wynnum Manly Seagulls 24 Redcliffe Dolphins 10
Venue: BMD Kougari Oval
Date: Sunday 25 March 2018 at 12:10pm
Wynnum Manly Seagulls (24)
Tries: Reece Hoffman, Chris Humphris, Max Plath, Harrison Graham
Goals: Braden Whittaker 4
Redcliffe Dolphins (10)
Tries: Dylan Briggs, Hudson Jones
Goals: Dylan Briggs 1
---
Sunshine Coast Falcons had a bye this round.
---
RELATED: Click here to view the current Mal Meninga Cup ladder.