Results and Scorers:
RESULTS: 2018 Hastings Deering Colts Round 3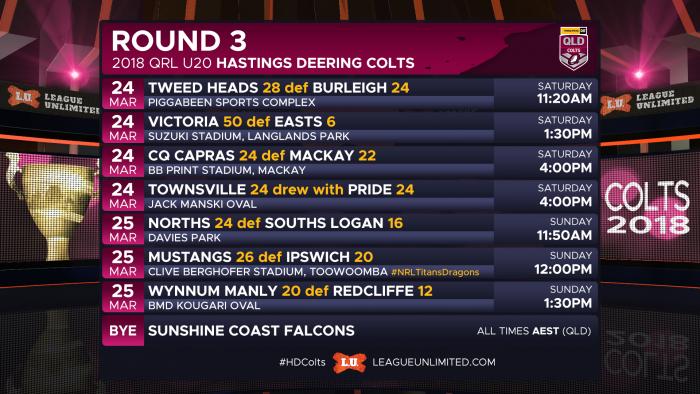 All the results and scorers from the third round of the 2018 QRL U20 Hastings Deering Colts.
All listed times are AEST (QLD).
---
RELATED: See the full list of 2018 Hastings Deering Colts Draw and Results.
---
Tweed Heads Seagulls 28 Burleigh Bears 24
Venue: Piggabeen Sports
Date: Saturday 24 March 2018 at 11:20am
Tweed Heads Seagulls (28)
Tries: Liam Hampson 2, Daniel Brownbill, Jese Smith-Shields, Bostyn Hakaraia
Goals: Bostyn Hakaraia 4
Burleigh Bears (24)
Tries: Lochlyn Sheldon, Jaxson Paulo 2, Harry Fitzhugh
Goals: Zae Wallace 4
---
Easts Tigers 6 Victoria Thunderbolts 50
Venue: Suzuki Stadium, Langlands Park
Date: Saturday 24 March 2018 at 1:30pm
Easts Tigers (6)
Tries: Tyrone Titasey
Goals: Nathan Brown 1
Victoria Thunderbolts (50)
Tries: Kelma Tuilagi 2, Iliesa Ratuva 3, Trent Toelau, Sale Finau, Troy Hanita-Paki, Jacob Cordtz, Derek Maota
Goals: Matt Stimson 5
---
Mackay Cutters 22 CQ Capras 24
Venue: BB Print Stadium Mackay
Date: Saturday 24 March 2018 at 4:00pm
Mackay Cutters (22)
Tries: Jayden O'Shannessy 2, Darcy Head, Hayden Pace
Goals: Harry Green 2, Brendan White 1
CQ Capras (24)
Tries: Eli Noovao 2, Christian Smith 2, Connor McGarry
Goals: Richard Sisifa 1, Jack White 1
---
Townsville Blackhawks 24 Northern Pride 24
Venue: Jack Manski Oval
Date: Saturday 24 March 2018 at 4:00pm
Townsville Blackhawks (24)
Tries: Solomon Vasuvulagi 2, William Fox, Marshall Hudson
Goals: Brodie Chaffey 4
Northern Pride (24)
Tries: Peter Hola, Evan Child, Terrence Casey-Douglas, Wiremu Greig
Goals: Jack Campagnolo 4
---
Souths Logan Magpies 16 Norths Devils 24
Venue: Davies Park
Date: Sunday 25 March 2018 at 11:50am
Souths Logan Magpies (16)
Tries: Sosaieti Mataele, Luke Burton, Rory Ferguson
Goals: Kye Oates 2
Norths Devils (24)
Tries: David Fauid, Jack Peoples, Gerome Burns, Eliott Vincent
Goals: Gerome Burns 4
---
Western Mustangs 26 Ipswich Jets 20
Venue: Clive Berghofer Stadium
Date: Sunday 25 March 2018 at 12:00pm
Western Mustangs (26)
Tries: Wally Pegler, Errol Simpson, Nathaniel Jones, Dylan Quinn, Zac Stevens 
Goals: Wally Pegler 2 
Ipswich Jets (20)
Tries: Blake Lenehan, Liam Mullins, Josh Williams, Folau Matangi
Goals: Regan Wilde 2
---
Wynnum Manly Seagulls 20 Redcliffe Dolphins 12
Venue: BMD Kougari Oval
Date: Sunday 25 March 2018 at 1:30pm
Wynnum Manly Seagulls (20)
Tries: Ed Burns, Jack Callow, Rashaun Denny
Goals: Shannon Gardiner 4
Redcliffe Dolphins (12)
Tries: Jedidiah Simbiken, Michael Walit
Goals: Oscar Carter 2
---
Sunshine Coast Falcons had a bye this round.
---
RELATED: Click here to view the current Hastings Deering Colts ladder.