Results and Scorers:
RESULTS: 2018 Hastings Deering Colts Round 4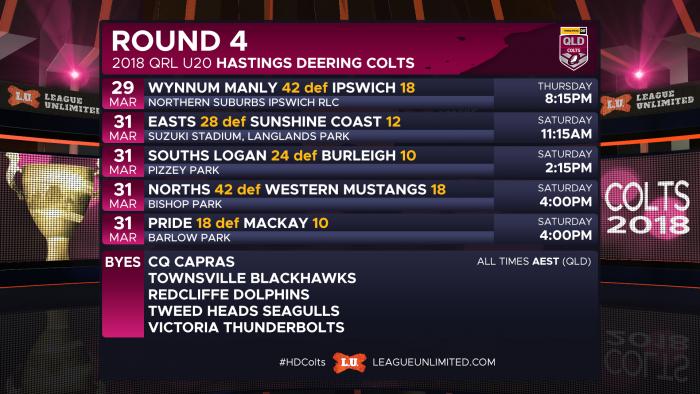 All the results and scorers from the fourth round of the QRL's Hastings Deering Colts under 20's competition.
All listed times are AEST (QLD).
---
RELATED: See the full list of 2018 Hastings Deering Colts Draw and Results.
---
Ipswich Jets 18 Wynnum Manly Seagulls 42
Venue: North Ipswich Reserve
Date: Thursday 29 March 2018 at 8:15pm
Ipswich Jets (18)
Tries: Shar Walden, David Iopu, Josh Williams, Jeremy Mulitalo
Goals: Liam Mullins 1
Wynnum Manly Seagulls (42)
Tries: Jalen Tangiitii-Turner 2, Zayne Holleran, Zane Wallace, Ryan O'Keefe, Lachlan Buchanan, Jonty Hansen, Rashaun Denny
Goals: Lachie Perry 3, Reece McKenzie-O'Brien 2
---
Easts Tigers 28 Sunshine Coast Falcons 12
Venue: Suzuki Stadium, Langlands Park
Date: Saturday 31 March 2018 at 11:15am
Easts Tigers (28)
Tries: Luke Kisaloff, Lorenzo Mulitalo, Anthony Meleisea-Murray, Tyrone Titasey Zac Teevan
Goals: Zak Taibi 2, Nathan Brown 2
Sunshine Coast Falcons (12)
Tries: Rowan Jardine, Caleb Daunt
Goals: Jack Wright 2
---
Burleigh Bears 10 Souths Logan Magpies 24
Venue: Pizzey Park
Date: Saturday 31 March 2018 at 2:15pm
Burleigh Bears (10)
Tries: Kai O'Donnell, Mikey Williams
Goals: Zae Wallace
Souths Logan Magpies (24)
Tries: Broughton Clark, Blake Scott, Kye Oates, Ashton Watson
Goals: Kye Oates 4
---
Northern Pride 18 Mackay Cutters 10
Venue: Barlow Park
Date: Saturday 31 March 2018 at 4:00pm
Northern Pride (18)
Tries: Pat Gallen, Evan Child, Jack Campagnolo
Goals: Jack Campagnolo 3
Mackay Cutters (10)
Tries: Jacob Schill, Hayden Pace
Goals: Harry Green 1
---
Norths Devils 42 Western Mustangs 18
Venue: Bishop Park
Date: Saturday 31 March 2018 at 4:00pm
Norths Devils (42)
Tries: Eddie Blacker 3, Tom Best 2, Michael McGrath, Eliott Vincent, David Fauid
Goals: Gerome Burns 5
Western Mustangs (18)
Tries: Damian McIntosh, Tuia Eliu, Michael Naseri
Goals: Wally Pegler 3
---
CQ Capras, Townsville Blackhawks, Redcliffe Dolphins, Tweed Heads Seagulls and Victoria Thunderbolts had a bye this round.
---
RELATED: Click here to view the current Hastings Deering Colts ladder.