Results and Scorers:
RESULTS: 2018 UNE SG Ball Cup Round 8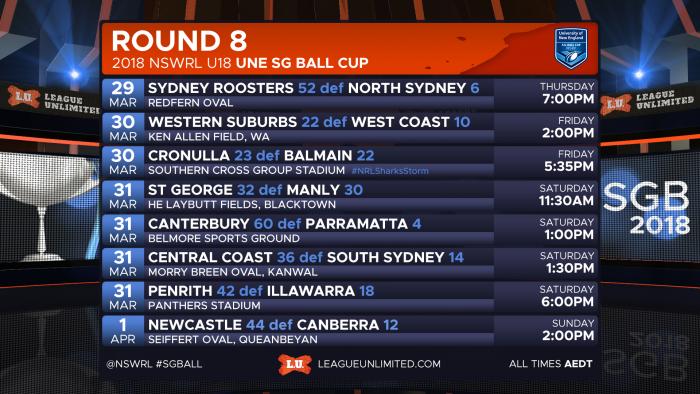 All the results and scorers from the eighth round of the NSWRL Under 18's SG Ball Cup.
All listed times are AET (NSW/VIC/ACT).
---
RELATED: See the full list of 2018 UNE SG Ball Cup Draw and Results.
---
North Sydney Bears 6 Sydney Roosters 52
Venue: Redfern Oval
Date: Thursday 29 March 2018 at 7:00pm
North Sydney Bears (6)
Tries: Ezra Gibson
Goals: Sam Stratis 1
Sydney Roosters (52)
Tries: Egan Butcher 2, Dejzha Pene 2, McKenzie Baker 2, Lathan Hutchinson-Walters, Logan Muir, Tyrell Mayfield
Goals: Harry Wilson 8
---
West Coast Pirates 10 Western Suburbs Magpies 22
Venue: Ken Allen Field
Date: Friday 30 March 2018 at 2:00pm
West Coast Pirates (10)
Tries: Devontay Tutai-Tauiti 2
Goals: Willem Smith 1
Western Suburbs Magpies (22)
Tries: Piliaau Togamaga 2, Mavoni Tuifua, Jacob Wright, Riley Stokes
Goals: Piliaau Togamaga 1
---
Cronulla-Sutherland Sharks 23 Balmain Tigers 22
Venue: Southern Cross Group Stadium
Date: Friday 30 March 2018 at 5:35pm
Cronulla-Sutherland Sharks (23)
Tries: Kai Broadhurst 2, Declan Casey, Isaac Longmuir
Goals: Kai Broadhurst 3
Field Goals: Kai Broadhurst 1
Balmain Tigers (22)
Tries: Tallis Smith 2, Ethan Mokoia, Tane Edmed
Goals: Tane Edmed 2, Sam Karwhin 1
---
Manly-Warringah Sea Eagles 30 St George Dragons 32
Venue: HE Laybutt Sporting Complex
Date: Saturday 31 March 2018 at 11:30am
Manly-Warringah Sea Eagles (30)
Tries: Max Lehmann, Keith Titmuss, Roland Podesta, Nathanael Endemann, Josh Schuster
Goals: Roland Podesta 5
St George Dragons (32)
Tries: Jason Saab 2, Kane Bradley, James Coyne, Daniel Payne, Harris Georgopoulos
Goals: Cody Ramsey 4
---
Canterbury-Bankstown Bulldogs 60 Parramatta Eels 4
Venue: Belmore Sports Ground
Date: Saturday 31 March 2018 at 1:00pm
Canterbury-Bankstown Bulldogs (60)
Tries: Tommy Talau 2, Tyrone Harding 2, Ryan Gray, Kolinio Saukuru, James Valevatu, Chris Patolo, Logen Dillon, Mosese Pope
Goals: Jake Averillo 10
Parramatta Eels (4)
Tries: Brent Barnes
---
Central Coast Roosters 36 South Sydney Rabbitohs 14
Venue: Morry Breen Oval
Date: Saturday 31 March 2018 at 1:30pm
Central Coast Roosters (36)
Tries: Adam Riding 2, Jack Wilkinson-Alipate 2, Jack Frasca, Ryan Jones, Tallis Angianga
Goals: Toby Elliott 4
South Sydney Rabbitohs (14)
Tries: Ratu Vesikula, Akositiaine Matakaiongo, Quincy Kalo Kalo
Goals: Kaylib Savage 1
---
Penrith Panthers 42 Illawarra Steelers 18
Venue: Panthers Stadium
Date: Saturday 31 March 2018 at 6:00pm
Penrith Panthers (42)
Tries: Stephen Crichton 2, Hayden Bonanno 2, Ethan Clark-Wood, Matt Faauila, Chase Chapman, Charlie Staines
Goals: Stephen Crichton 5
Illawarra Steelers (18)
Tries: Tyrone Harding, Jayden Sullivan, Hudson SPicer
Goals: Jayden Sullivan 3
---
Canberra Raiders 12 Newcastle Knights 44
Venue: Seiffert Oval
Date: Sunday 1 April 2018 at 12:30pm
Canberra Raiders (12)
Tries: Matt Dragisic, Immanuel Tagaloamatua
Goals: Regan McClennan 2
Newcastle Knights (44)
Tries: Jock Madden 2, Cooper Jenkins 2, Phoenix Crossland, Toby Marks, Taylor Fiu, Nathanael Sasagi
Goals: Jock Madden 6
---
RELATED: Click here to view the current UNE SG Ball Cup ladder.