Results and Scorers:
RESULTS: 2018 UNE SG Ball Cup Round 9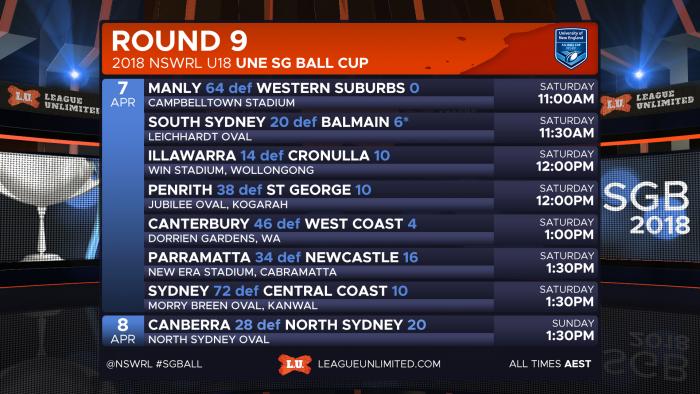 All the results and scorers from the ninth and final round of the NSWRL U18's SG Ball Cup.
All listed times are AEST (NSW/QLD/VIC/ACT).
---
RELATED: See the full list of 2018 UNE SG Ball Cup Draw and Results.
---
Western Suburbs Magpies 0 Manly-Warringah Sea Eagles 64
Venue: Campbelltown Stadium
Date: Saturday 7 April 2018 at 11:00am
Western Suburbs Magpies (0)

Manly-Warringah Sea Eagles (64)
Tries: Max Lehmann 2, Hyrum Wichmann 2, Filimaua Filimaua-Tau, Keith Titmuss, Sean Vaivelata, Keegan Turner, Dane Oostendorp-Power, Luke Rouland, Josh Schuster
Goals: Roland Podesta 10
---
Balmain Tigers 6 South Sydney Rabbitohs 20
Venue: Leichhardt Oval
Date: Saturday 7 April 2018 at 11:30am
Balmain Tigers (6)

South Sydney Rabbitohs (20)
---
Illawarra Steelers 14 Cronulla-Sutherland Sharks 10
Venue: WIN Stadium
Date: Saturday 7 April 2018 at 12:00pm
Illawarra Steelers (14)
Tries: Tyrone Harding, Jayden Sullivan
Goals: Jayden Sullivan 3
Cronulla-Sutherland Sharks (10)
Tries: Vito Tevaga, Jonaiah Lualua
Goals: Kai Broadhurst 1
---
St George Dragons 10 Penrith Panthers 38
Venue: Jubilee Oval
Date: Saturday 7 April 2018 at 12:00pm
St George Dragons (10)
Tries: James Coyrne, Harris Georgopoulos
Goals: Cody Ramsey 1
Penrith Panthers (38)
Tries: Tom Farr 2, Shawn Blore, Charlie Staines, Jordan Ehsman, Laisenia Turuva, Zach Cini
Goals: Matt Burton 5
---
West Coast Pirates 4 Canterbury-Bankstown Bulldogs 46
Venue: Dorrien Gardens
Date: Saturday 7 April 2018 at 1:00pm
West Coast Pirates (4)
Tries: Jaydon Solomon
Canterbury-Bankstown Bulldogs (46)
Tries: Logen Dillon 3, James Valevatu, Kolinio Saukuru, Kurt Picken 2, Jake Averillo, Jackson Topine
Goals: Jake Averillo 5
---
Central Coast Roosters 10 Sydney Roosters 72
Venue: Morry Breen Oval
Date: Saturday 7 April 2018 at 1:30pm
Central Coast Roosters (10)
Tries: Tallis Angianga, Jack Wilkinson-Alipate
Goals: Toby Elliot 1
Sydney Roosters (72)
Tries: McKenzie Baker 3, Bayleigh Bentley-Hape 2, Asu Kepaoa 3, Harry Wilson, Tyrell Mayfield 2, Dejzha Pene, Lathan Hutchinson-Walters
Goals: Harry Wilson 10
---
Parramatta Eels 34 Newcastle Knights 16
Venue: New Era Stadium
Date: Saturday 7 April 2018 at 1:30pm
Parramatta Eels (34)
Tries: Brent Barnes 2, Harry Duggan, John Paul Nohra, Lorenzo Pritchard, Charbel Tasipale
Goals: Tyler Field 4, Brent Barnes 1
Newcastle Knights (16)
Tries: Darcy Heaney, Starford Toa, Timanu Alexander
Goals: Jock Madden 2
---
North Sydney Bears 20 Canberra Raiders 28
Venue: North Sydney Oval
Date: Sunday 8 April 2018 at 1:30pm
North Sydney Bears (20)
Tries: Zac Stracey, William O'Toole, Ezra Gibson
Goals: Sam Stratis 4
Canberra Raiders (28)
Tries: Jarrett Subloo 3, Immanuel Tagalomatua, Ben Nanesa
Goals: Jordan Little 4
---
RELATED: Click here to view the current UNE SG Ball Cup ladder.