Results and Scorers:
RESULTS: 2018 Mal Meninga Cup Round 7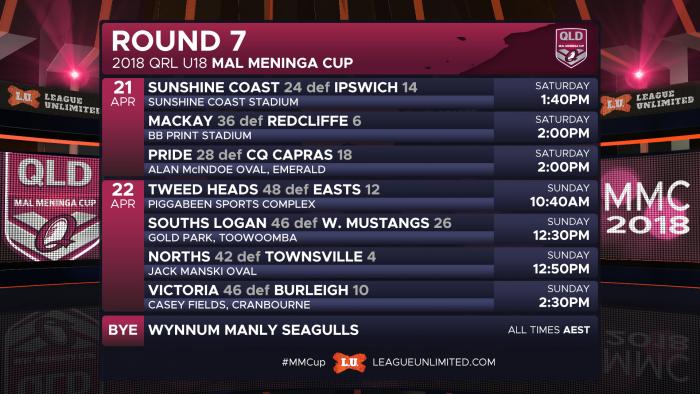 All the results and scorers from the final round - Round 7 - of the QRL's Under 18 Mal Meninga Cup.
All listed times are AEST (NSW/QLD/VIC/ACT).
---
RELATED: See the full list of 2018 Mal Meninga Cup Draw and Results.
---
Sunshine Coast Falcons 24 Ipswich Jets 14
Venue: Sunshine Coast Stadium
Date: Saturday 21 April 2018 at 1:40pm
Sunshine Coast Falcons (24)
Tries: Tye James 2, Cameron Hanson, Ryan Sauer, Joey Lowe
Goals: Joey Lowe 2
Ipswich Jets (14)
Tries: Brad Zampech 2, Lochlan Turnbull
Goals: Brad Zampech 1
---
CQ Capras 18 Northern Pride 28
Venue: Alan McIndoe Park
Date: Saturday 21 April 2018 at 2:00pm
CQ Capras (18)
Tries: Ben Farr, Ronan McGuire, Harrison McIndoe, Austen Routley
Goals: Keaton White 1
Northern Pride (28)
Tries: Nathan Phillips, Hamiso Tabuai-Fidow, Usaia Fonongaloa, Bailey Biondi-Odo
Goals: Bailey Biondi-Odo 4
---
Mackay Cutters 36 Redcliffe Dolphins 6
Venue: BB Print Stadium Mackay
Date: Saturday 21 April 2018 at 4:00pm
Mackay Cutters (36)
Tries: Taine Browne 3, Jack Hoffmann, Rayden Burns, Mitch O'Connell, Garrett Smith
Goals: Michael Bell 4
Redcliffe Dolphins (6)
Tries: Rawinia Houghton-Rameka
Goals: Steve McIntosh 1
---
Tweed Heads Seagulls 48 Easts Tigers 12
Venue: Piggabeen Sports
Date: Sunday 22 April 2018 at 10:40am
Tweed Heads Seagulls (48)
Tries: Indiha Saotui-Huta 2, Gorber Kuwot Chapari 2, Glenn McGrady 2, Tom Dearden, Corossian Afoa, Xavier Coates
Goals: Toby Sexton 6
Easts Tigers (12)
Tries: Connor Murray 2
Goals: Hayden Ryan 2
---
Western Mustangs 26 Souths Logan Magpies 46
Venue: Gold Park
Date: Sunday 22 April 2018 at 12:30pm
Western Mustangs (26)
Tries: Chris Chalmers, Tom Davis, Kyle Petersen, Leslie Hartvigsen, Luke Maiden
Goals: Richard Murray 3
Souths Logan Magpies (46)
Tries: Tanah Boyd 2, Davidi Fifita 2, Leevai Sutton, Fanitesi Niu, Emosi Tuqiri, Paul Karaitiana, Cruise Ten
Goals: Ezra Coulston 5
---
Townsville Blackhawks 4 Norths Devils 42
Venue: Jack Manski Oval
Date: Sunday 22 April 2018 at 12:50pm
Townsville Blackhawks (4)
Tries: Cameron Bateup
Norths Devils (42)
Tries: Ethan Bullemor 2, Jack Paterson 2, Manase Kaho, Nesta Watene, Brock Diment, Tristan Powell
Goals: Cory Paix 4, Josh James 1
---
Victoria Thunderbolts 46 Burleigh Bears 10
Venue: Casey Fields
Date: Sunday 22 April 2018 at 2:30pm
Victoria Thunderbolts (46)
Tries: Tai Pretty 2, Dean Ieremia 2, Filo Seigafo 2, Inoke Siolaa, Kynan Headon, Kruz Niutili-Schmidt
Goals: Jake Reedy-Bartlett 5
Burleigh Bears (10)
Tries: Jayden Campbell, Braden Amundsen
Goals: Jayden Campbell 1
---
Wynnum Manly Seagulls had a bye this round.
---
RELATED: Click here to view the current Mal Meninga Cup ladder.