Results and Scorers:
RESULTS: 2018 Sydney Shield Round 3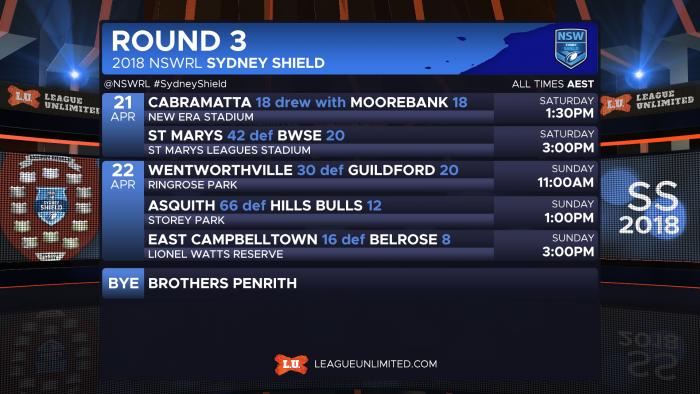 All the results and scorers from the third round of the NSWRL Sydney Shield.
All listed times are AEST (NSW/QLD/VIC/ACT).
---
RELATED: See the full list of 2018 Sydney Shield Draw and Results.
---
Cabramatta Two Blues 18 Moorebank Rams 18
Venue: New Era Stadium
Date: Saturday 21 April 2018 at 1:30pm
Cabramatta Two Blues (18)
Tries: Jayden Yates, John Martin, Jason Jana
Goals: Liam O'Brien 3
Moorebank Rams (18)
Tries: Corey Matthews, Amosa Manu, Jacob Winterstein, Kytak Chan
Goals: Jayden Aramoana 1
---
St Marys 42 Blacktown Workers Sea Eagles 20
Venue: St Marys Stadium
Date: Saturday 21 April 2018 at 3:00pm
St Marys (42)
Tries: Ben Ernest 2, Marlon Ritchie, Etu Qionimcawa, Jake Toby, Jake Gillett-Gow, Jesse Abbott, Antonio Faguuaea, Allan Fitzgibbon
Goals: Aiden Glanville 3
Blacktown Workers Sea Eagles (20)
Tries: Jackson Whitby, Sione Kaivelata, Jermayne Cook, Sosaia Talivakaola
Goals: Jackson Whitby 2
---
Wentworthville United 30 Guildford Owls 20
Venue: Ringrose Park
Date: Sunday 22 April 2018 at 11:00am
Wentworthville United (30)
Tries: Eli Roberts, Siaosi Sisifa, Dane Francis, Eparama Navale, Ayden Carling
Goals: Brendon Newtown 4, Jayson Lombardo 1
Guildford Owls (20)
Tries: Cameron Eyles 2, Yahia Masri, Leslie Ngaluafe
Goals: Nathan Masima 2
---
Asquith Magpies 66 Hills Bulls 12
Venue: Storey Park
Date: Sunday 22 April 2018 at 1:00pm
Asquith Magpies (66)
Tries: Jack Goode 2, Ngangarra Barker 2, Gibson Popoali'i 2, Jale Seininawanawa 2, Jeremy Marshall, Tuki Jackson, Awishkar Gnyawali, Corey Browne-Higginbotham, Niko Apelu
Goals: Vinnie Ngaro 5, Gibson Popoali'i 2
Hills Bulls (12)
Tries: Pati Eni 2
Goals: Hayden McWilliam 2
---
Belrose Eagles 8 East Campbelltown Eagles 16
Venue: Lionel Watts Reserve
Date: Sunday 22 April 2018 at 3:00pm
Belrose Eagles (8)
Tries: James Morgan, Beau Abrahams
East Campbelltown Eagles (16)
Tries: Theo Leato, Dan Muir, Craig Moustakas
Goals: Edwin Connor 2
---
Brothers Penrith had a bye this round.
---
RELATED: Click here to view the current Sydney Shield ladder.