Results and Scorers:
RESULTS: 2018 Hastings Deering Colts Round 7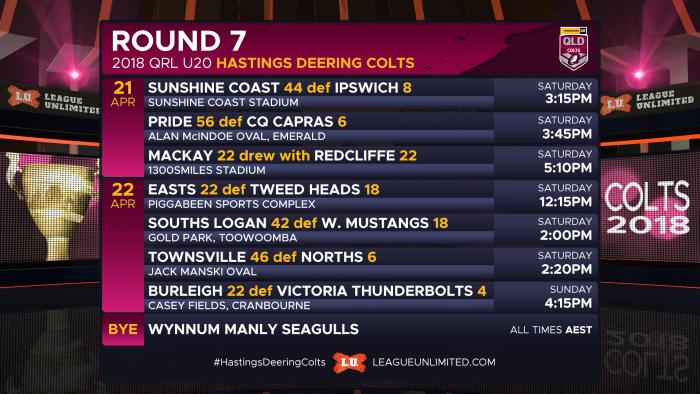 All the results and scorers from the seventh round of the QRL's Under 20 Hastings Deering Colts competition.
All listed times are AEST (NSW/QLD/VIC/ACT).
---
RELATED: See the full list of 2018 Hastings Deering Colts Draw and Results.
---
Sunshine Coast Falcons 44 Ipswich Jets 8
Venue: Sunshine Coast Stadium
Date: Saturday 21 April 2018 at 3:15pm
Sunshine Coast Falcons (44)
Tries: Rueben Olive 2, Damian Forde-Hurrell, Riley Moore, Jake Egan, Rowan Jardine, Augie Rangihuna, Hayden Lewis-Boyer
Goals: Augie Rangihuna 6
Ipswich Jets (8)
Tries: Denzel Burns 2
---
CQ Capras 6 Northern Pride 56
Venue: Alan McIndoe Park
Date: Saturday 21 April 2018 at 3:45pm
CQ Capras (6)
Tries: Eli Noovao
Goals: Jack White 1
Northern Pride (56)
Tries: Marc Naleba 2, Josh Charlie 2, Mark Rosendale, Brandon Jackonia, Jack Campagnolo, Pat Gallen, Evan Child, Connor Luhan
Goals: Jack Campagnolo 8
---
Mackay Cutters 22 Redcliffe Dolphins 22
Venue: 1300SMILES Stadium
Date: Saturday 21 April 2018 at 5:10pm
Mackay Cutters (22)
Tries: Jayden O'Shannessy 3, Ryan Schill
Goals: Brendan White 3
Redcliffe Dolphins (22)
Tries: Sam Armstrong 2, Regan Baker, Jake Sparey
Goals: Oscar Carter 3
---
Tweed Heads Seagulls 18 Easts Tigers 22
Venue: Piggabeen Sports
Date: Sunday 22 April 2018 at 12:15pm
Tweed Heads Seagulls (18)
Tries: Bostyn Hakaraia, Isaac Lee, Lee Turner
Goals: Bayley Gill 3
Easts Tigers (22)
Tries: Joel Hughes 2, Luke Self 2,
Goals: Nathan Brown 3
---
Western Mustangs 18 Souths Logan Magpies 42
Venue: Gold Park
Date: Sunday 22 April 2018 at 2:00pm
Western Mustangs (18)
Tries: Benji Neliman, Josh Foster, Buddy Stanley, Tuia Eliu
Goals: James Robinson 1
Souths Logan Magpies (42)
Tries: Thane Kellermeyer, Tommy Sa'u, Blake Scott, Luke Burton, Alan White, BJ Oates, Ashton Watson, Jacob Alick
Goals: Kye Oates 5
---
Townsville Blackhawks 46 Norths Devils 6
Venue: Jack Manski Oval
Date: Sunday 22 April 2018 at 2:20pm
Townsville Blackhawks (46)
Tries: Campbell Duffy 2, Tom Gilbert 2, Michael Carroll, Marshall Hudson, Solomon Vasuvulagi, Sean Mullany
Goals: Adam Cook 7
Norths Devils (6)
Tries: Zane Jones
Goals: Michael McGrath 1
---
Victoria Thunderbolts 4 Burleigh Bears 22
Venue: Casey Fields
Date: Sunday 22 April 2018 at 4:15pm
Victoria Thunderbolts (4)
Tries: Sale Finau
Burleigh Bears (22)
Tries: Corey Alexander 3, Api Noema-Matenga
Goals: Sean Garner 2, Harry Fitzhugh 1
---
Wynnum Manly Seagulls had a bye this round.
---
RELATED: Click here to view the current Hastings Deering Colts ladder.