Results and Scorers:
RESULTS: 2018 Intrust Super Cup Round 7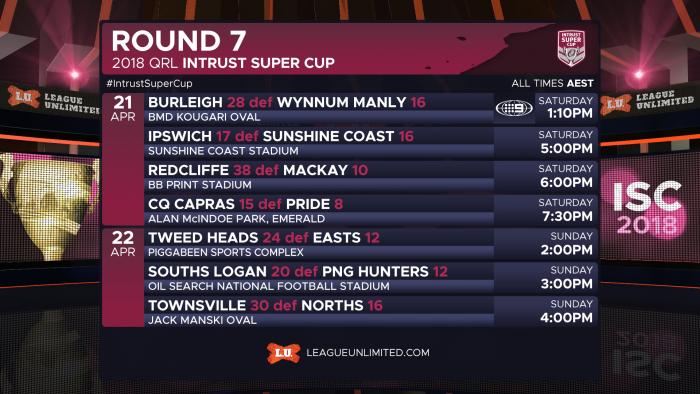 All the results and scorers from the seventh round of the QRL's Intrust Super Cup competition.
All listed times are AEST (NSW/QLD/VIC/ACT).
---
RELATED: See the full list of 2018 Intrust Super Cup Draw and Results.
---
Wynnum Manly Seagulls 16 Burleigh Bears 28
Venue: BMD Kougari Oval
Date: Saturday 21 April 2018 at 1:10pm
Wynnum Manly Seagulls (16)
Tries: Peter Gubb 2, Daniel Ogden
Goals: Shaun Nona 2
Burleigh Bears (28)
Tries: Hayden Schwass, Blake Leary, Troy Leo, Matt White, Sami Sauiluma
Goals: Josh Rogers 4
---
Sunshine Coast Falcons 16 Ipswich Jets 17
Venue: Sunshine Coast Stadium
Date: Saturday 21 April 2018 at 5:00pm
Sunshine Coast Falcons (16)
Tries: Chris Lewis, Jake Ainsworth, Matt Soper-Lawler
Goals: Matt Soper Lawler 2
Ipswich Jets (17)
Tries: Julian Christian, Michael Purcell
Goals: Wes Conlon 4
Field Goals: Sam Caslick 1
---
Mackay Cutters 10 Redcliffe Dolphins 38
Venue: BB Print Stadium Mackay
Date: Saturday 21 April 2018 at 6:00pm
Mackay Cutters (10)
Tries: Yamba Bowie, Nathan Saumalu
Goals: Yamba Bowie 1
Redcliffe Dolphins (38)
Tries: Jonus Pearson 2, Jamil Hopoate, Cameron Cullen, Scott Schulte, Trai Fuller
Goals: Kotoni Staggs 7
---
Central Queensland Capras 15 Northern Pride 8
Venue: Alan McIndoe Park
Date: Saturday 21 April 2018 at 7:30pm
Central Queensland Capras (15)
Tries: Maipele Morseau, Dave Taylor
Goals: Connor Broadhurst 3
Field Goals: Zeik Foster 1
Northern Pride (8)
Tries: Jake Clifford
Goals: Jake Clifford 2
---
Tweed Heads Seagulls 24 Easts Tigers 12
Venue: Piggabeen Sports
Date: Sunday 22 April 2018 at 2:00pm
Tweed Heads Seagulls (24)
Tries: Brayden McGrady, AJ Brimson, Tony Matautia, Tristan Lumley, Sam Meskell
Goals: Lindon McGrady 1
Easts Tigers (12)
Tries: Brayden Torpy, Joe Bond
Goals: Brayden Torpy 2
---
PNG Hunters 12 Souths Logan Magpies 20
Venue: National Football Stadium
Date: Sunday 22 April 2018 at 3:00pm
PNG Hunters (12)
Tries: Edene Gebbie, Willie Minoga
Goals: Ase Boas 2
Souths Logan Magpies (20)
Tries: Marion Seve, Sam Scarlett, Jordan Scott
Goals: Guy Hamilton 4
---
Townsville Blackhawks 30 Norths Devils 16
Venue: Jack Manski Oval
Date: Sunday 22 April 2018 at 4:00pm
Townsville Blackhawks (30)
Tries: Jonathon Reuben 2, Shaun Hudson, Levi Dodd, Jake Marketo
Goals: Zach Clay 5
Norths Devils (16)
Tries: Gehamat Shibasaki, Paul Ulberg, Jack Ahearn
Goals: Todd Murphy 2
---
RELATED: Click here to view the current Intrust Super Cup ladder.