Results and Scorers:
RESULTS: 2018 Jersey Flegg Cup Round 8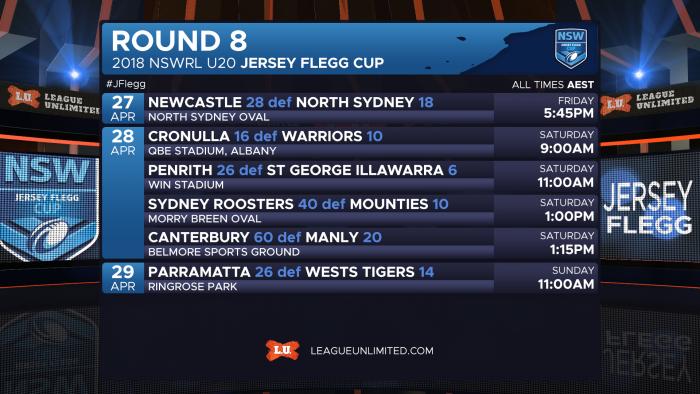 All the results and scorers from the eighth round of the NSWRL U20 Jersey Flegg Cup.
All listed times are AEST (NSW/QLD/VIC/ACT).
---
RELATED: See the full list of 2018 Jersey Flegg Cup Draw and Results.
---
North Sydney Bears 18 Newcastle Knights 28
Venue: North Sydney Oval
Date: Friday 27 April 2018 at 5:45pm
North Sydney Bears (18)
Tries: Tyrone Taukamo 2, Ethan Abou-Ghaida
Goals: Kieran Hayman 3
Newcastle Knights (28)
Tries: Will Davies, Hayden Loughrey, Beau Fermor, Lachlan Farr, Justin Worley
Goals: Kurtis Dark 4

---
Warriors 10 Cronulla-Sutherland Sharks 16
Venue: QBE Stadium
Date: Saturday 28 April 2018 at 9:00am
Warriors (10)
Tries: Havi Tupouniua, Tom Ale
Goals: Dakohta Taimani 1
Cronulla-Sutherland Sharks (16)
Tries: Bronson Xerri, Harry Smith, Monty Raper
Goals: Braydon Trindall 2
---
St George Illawarra Dragons 6 Penrith Panthers 26
Venue: WIN Stadium
Date: Saturday 28 April 2018 at 11:00am
St George Illawarra Dragons (6)
Tries: Jackson Willis
Goals: Jackson Willis 1
Penrith Panthers (26)
Tries: Shannon Harris 2, Will Burns, Justin Jones, Jack Quinn
Goals: Toby Westcott 3
---
Sydney Roosters 40 Mounties 10
Venue: Morry Breen Oval
Date: Saturday 28 April 2018 at 1:00pm
Sydney Roosters (40)
Tries: Nick O'Meley 2, Billy Smith, Sean O'Sullivan, Sam Verrills, Lachlan Lam, Treymain Spry, Josh Curran
Goals: Sean O'Sullivan 4
Mounties (10)
Tries: Harley Smith-Shields, Lachlan Cooper
Goals: Brendan O'Hagan 1
---
Canterbury-Bankstown Bulldogs 60 Manly-Warringah Sea Eagles 20
Venue: Belmore Sports Ground
Date: Saturday 28 April 2018 at 1:15pm
Canterbury-Bankstown Bulldogs (60)
Tries: Morgan Harper 2, Alex Seve, Sam Radovu, Elie El-Zakhem, Brock Hamill 2, Jonty Timoti, Frank Kuresa, Blake Clayton
Goals: Brandon Wakeham 9, Brock Hamill 1
Manly-Warringah Sea Eagles (14)
Tries: Keith Titmuss, Semisi Kioa, Luke Metcalf, Bilal Maarbani
Goals: Tevita Funa 2
---
Parramatta Eels 26 Wests Tigers 14
Venue: Ringrose Park
Date: Sunday 29 April 2018 at 11:00am
Parramatta Eels (26)
Tries: Taufa Afu, Jaeman Salmon, Oregon Kaufusi, Ethan Parry, Sean Keppie
Goals: Reed Mahoney 3
Wests Tigers (14)
Tries: Kane McQuiggin, Curtis Wilson, Heath Gibbs
Goals: Connelly Lemuelu 1
---
RELATED: Click here to view the current Jersey Flegg Cup ladder.