Results and Scorers:
RESULTS: 2018 Hastings Deering Colts Round 8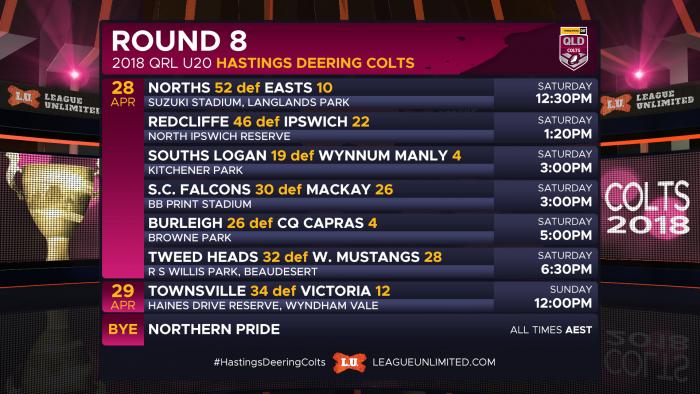 All the results and scorers from the eighth round of the QRL U20 Hastings Deering Colts.
All listed times are AEST (NSW/QLD/VIC/ACT).
---
RELATED: See the full list of 2018 Hastings Deering Colts Draw and Results.
---
Easts Tigers 10 Norths Devils 52
Venue: Suzuki Stadium, Langlands Park
Date: Saturday 28 April 2018 at 12:30pm
Easts Tigers (10)
Tries: Nathan Brown, James Price
Goals: Nathan Brown 1
Norths Devils (52)
Tries: Kegan Tuhega 2, Tom Best 2, Gerome Burns, Jack Peoples, David Fauid, Lionel Johnson
Goals: Michael McGrath 6, Gerome Burns 2
---
Ipswich Jets 22 Redcliffe Dolphins 46
Venue: North Ipswich Reserve
Date: Saturday 28 April 2018 at 1:20pm
Ipswich Jets (22)
Tries: Josh Williams, Lochlan Turnbull, Mike Sau, Blake Lenehan
Goals: Josh Williams 2, Regan Wilde 1
Redcliffe Dolphins (46)
Tries: Jake Sparey 2, Radean Robinson 2, Jedi Simbiken, Oscar Carter, Brett Anderson, Michael Walit, Jesse Jennings
Goals: Oscar Carter 5
---
Mackay Cutters 26 Sunshine Coast Falcons 30
Venue: BB Print Stadium Mackay
Date: Saturday 28 April 2018 at 3:00pm
Mackay Cutters (26)
Tries: Walter Lauenstein 2, Sam Murphy, Will Paki
Goals: Brendan White 5
Sunshine Coast Falcons (30)
Tries: Rueben Olive, Riley Moore, Damian Forde-Hurrell, Augie Rangihuna, Caleb Daunt
Goals: Augie Rangihuna 5
---
Wynnum Manly Seagulls 4 Souths Logan Magpies 19
Venue: Kitchener Park
Date: Saturday 28 April 2018 at 3:00pm
Wynnum Manly Seagulls (4)
Tries: Brad Spicer
Souths Logan Magpies (19)
Tries: BJ Oates 2, Ashton Watson
Goals: Kye Oates 3
Field Goals: Kye Oates 1
---
CQ Capras 4 Burleigh Bears 26
Venue: Browne Park
Date: Saturday 28 April 2018 at 5:00pm
CQ Capras (4)
Tries: Eli Noovao
Burleigh Bears (26)
Tries: Brodie Hannon, Jaxson Paulo, Mikey Williams, Reece Tapine, Harley Wood
Goals: Taine Tuaupiki 2, Sean Garner 1
---
Tweed Heads Seagulls 32 Western Mustangs 28
Venue: R S Willis Park
Date: Saturday 28 April 2018 at 6:30pm
Tweed Heads Seagulls (32)
Tries: Liam Hampson 2, OB Tawha 2, Daniel Brownbill, Curtis Dansey-Smaller
Goals: Bayley Gill 4
Western Mustangs (28)
Tries: Errol Simpson, Buddy Stanley, James Robinson, Zac Butler, Michael Naseri
Goals: Errol Simpson 3, Bryce Whale 1
---
Victoria Thunderbolts 12 Townsville Blackhawks 34
Venue: Haines Drive Reserve
Date: Sunday 29 April 2018 at 11:00am
Victoria Thunderbolts (12)
Tries: Jordin Leiu, Iliesa Ratuva
Goals: Matt Stimson 2
Townsville Blackhawks (34)
Tries: Jake Riley 2, Tom McCagh, Jack Glossop, Lindsey Kirk, Lachlan La Rosa
Goals: Adam Cook 5
---
Northern Pride had a bye this round.
---
RELATED: Click here to view the current Hastings Deering Colts ladder.