Results and Scorers:
RESULTS: 2018 Ron Massey Cup Round 4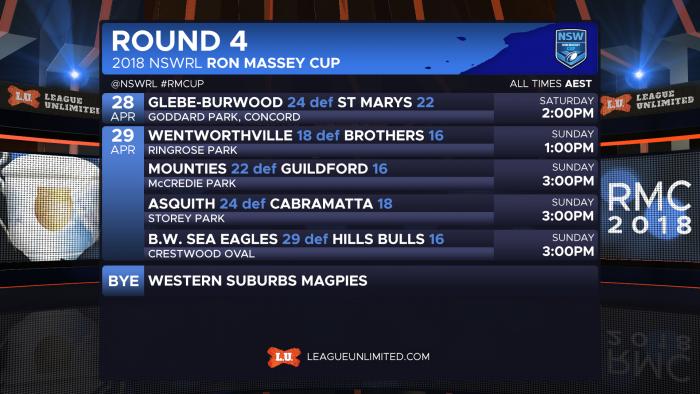 All the results and scorers from the NSWRL Ron Massey Cup fourth round.
All listed times are AEST (NSW/QLD/VIC/ACT).
---
RELATED: See the full list of 2018 Ron Massey Cup Draw and Results.
---
Glebe Burwood Wolves 42 St Marys 22
Venue: Goddard Park
Date: Saturday 28 April 2018 at 2:00pm
Glebe Burwood Wolves (42)
Tries: Addison Demetriou 3, Jordan Topai-Aveai 2, Maverick Tweedie, Ahmad Ellaz
Goals: Addison Demetriou 7
St Marys (22)
Tries: Chris Aunese-Scanlon 2, Joe Vaegaau, Nathan Smith
Goals: Chad O'Donnell 3
---
Wentworthville Magpies 18 Brothers Penrith 16
Venue: Ringrose Park
Date: Sunday 29 April 2018 at 1:00pm
Wentworthville Magpies (18)
Tries: Zach Nicholls, James Gammidge, Beau Henry, Rhys Davies
Goals: Beau Henry 1
Brothers Penrith (16)
Tries: Simon Lewis, Ryan Foaese, Troy Bendell
Goals: Simon Lewis 2
---
Hills Bulls 16 Blacktown Workers Sea Eagles 29
Venue: Crestwood Oval
Date: Sunday 29 April 2018 at 3:00pm
Hills Bulls (16)
Tries: Tom Perrin 2, Hayden McWilliam
Goals: Mitch Hyde 2
Blacktown Workers Sea Eagles (29)
Tries: Vieru Mapesone 2, Tekina Vailea, Denzal Tonise, James Tuitahi
Goals: Kamren Cryer 4
Field Goals: Vieru Mapesone 1
---
Asquith Magpies 24 Cabramatta Two Blues 18
Venue: Storey Park
Date: Sunday 29 April 2018 at 3:00pm
Asquith Magpies (24)
Tries: Alex Nicholls-O'Neill, Kane Allan, Jesse Martin, Jake Attard, Mike Pearsall
Goals: Kurt Horton 2
Cabramatta Two Blues (18)
Tries: Brent Anderson 2, Jason Thompson
Goals: Jake Rafferty-Butfield 3
---
Guildford Owls 16 Mounties 22
Venue: McCredie Park
Date: Sunday 29 April 2018 at 3:00pm
Guildford Owls (16)
Tries: Harmony Hunt, Aaron Grech, Josh Camroux
Goals: Josh Camroux 2
Mounties (22)
Tries: Harry Leddy, Steve Tavita, Josh Saunders-Jones, Yileen Gordon
Goals: Jett Karam 3
---
Western Suburbs Magpies had a bye this round.
---
RELATED: Click here to view the current Ron Massey Cup ladder.